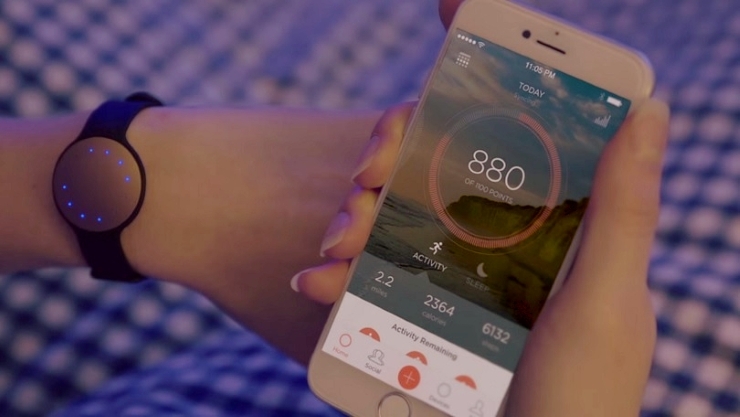 At Heads Up Health, we're always on the lookout for new technology that can help us better manage our health. When it comes to activity trackers, there's a ton of them on the market these days. Choices run the gamut from wrist-worn devices like FitBit and Jawbone to mobile apps like Moves, Google Fit and Apple Health. One of my personal favorites is the Misfit Shine. I've been using it for over a year now and here are the three reasons why I love the Misfit Shine Activity + Sleep Tracker.
No Charging!
The Shine runs on a watch battery. This battery has a life span of between four and six months, which means you never have to take it off for charging. With other devices, taking it off to charge means you run the risk of forgetting to put it back on and potentially missing out on a day (or more) of valuable data.
Waterproof
The Shine is completely waterproof. You can leave it on while swimming and/or showering. If it accidentally ends up going through the washing machine, chances are it will survive that, too.
Automatic sleep detection
Lastly, and most significantly, is Shine's sleep tracking. Getting enough sleep is one of the best things you can do for overall health and longevity. However, with many activity trackers on the market, if you want accurate sleep data, you need to manually set the device into "sleep mode" before you go to bed and then take it out of "sleep mode" when you wake up. Inevitably you end up forgetting one or the other and the result is incomplete sleep data.
The Shine is able to automatically detect when you fall asleep and when you wake up. Just wear the Shine and you get good sleep data – every night! Figure 2 below shows my weekly data in the Heads Up Health Dashboard to make sure I am staying on track over the course of the week.
Misfit Shine + Heads Up Health: Better Together
Connecting your Misfit Shine to your Heads Up Health account lets you get even more value out of the device.
While the Shine comes with a fantastic mobile app, the Heads Up Health web app provides a complementary experience. For example, you can easily look at your Misfit data on a daily, weekly, monthly or even yearly basis to make sure you're staying on track with sufficient exercise (steps) and rest (sleep). I may have occasional days with insufficient sleep or activity, but using Heads Up Health I can look back over the course of the month and ensure I am making up for lighter days.
Heads Up Health also let you compare your Shine data with other health metrics, like weight, BMI, body fat percentage, blood pressure, blood sugar and even data coming from your electronic health records.
A Word of Caution
One caveat with the Shine is that several Heads Up Heath users — myself included — have lost the device because it fell out of the wrist strap. Losing the device is a risk with any tracker but the Shine seems especially prone to slipping out of the wrist band. That said, when I contacted Misfit support to report the issue, they gladly issued me a replacement at no charge. Kudos to Misfit for providing great customer support.
The Verdict Is. . .
Overall the Shine is an awesome device. It's reasonably priced and comes with some great benefits. Using the Shine with your Heads Up Health account can be an even better combination. Misfit just released a new version of the Shine, which is supposed to have improved accuracy for sleep and activity tracking and we're excited to test it out.
If you're ready to link up your Shine with Heads Up Health, head over to our website and get started! Or to if you just want the latest from Heads Up Health, follow us on Facebook or Twitter. Lastly, if you've got questions about how to get started tracking your health, shoot us an email. We're here to help!