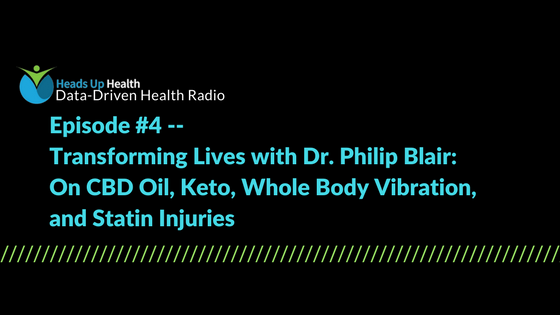 Podcast: Play in new window | Download
Subscribe: Apple Podcasts | Google Podcasts | RSS
Can CBD oil, the ketogenic diet, and whole body vibration translate to better health? And why should people abstain from statins?
In this episode, we chat with Dr. Philip Blair, a board-certified family practitioner and a retired military officer from West Point who does many things to help people transform their lives, including education about CBD oil, low-carb and ketogenic diet approaches, statin injuries, and disease management. He also provides consultations regarding cannabidiol (CBD) from industrial hemp.
Among the many other hats the awesome Dr. Blair wears, he is also an advisor for Elixinol, as well as the Medical Director and Vice President of Pro Health Advisor, providing innovative nutritional and disease management services. His program believes in "empowering individual patients to make lifestyle changes and coaching them through the difficult transitions until they realize success…and maintain their positive outcomes for life."
You can find Dr. Philip Blair at Pro Health Advisor and on Facebook.
This podcast is brought to you by Heads Up Health, a web app designed to help you centrally track all of your vital health data. Instantly synchronize your medical records, connect your favorite health devices and apps and use your data to optimize your health!
Click on the button below to start your free 30-day trial. Or, read on for more information about our latest podcast episode!