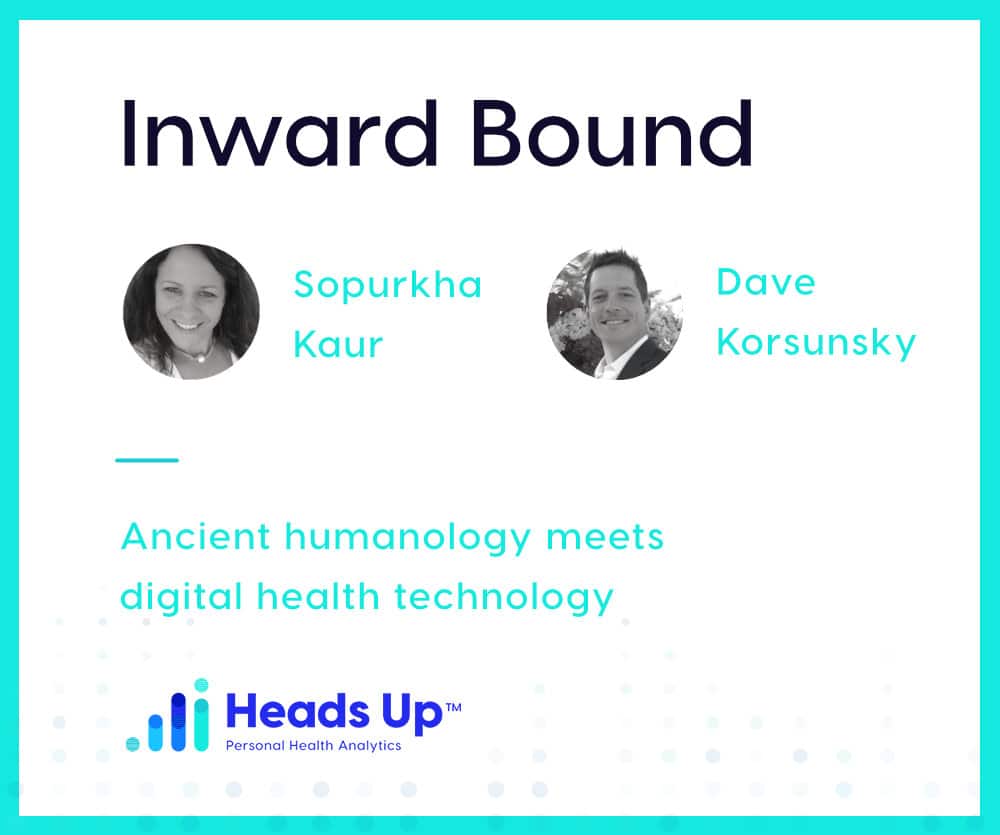 In Episode Three of Inward Bound, Dave Korsunsky speaks with Sopurkha Kaur, CEO of Awareness Generation, who offers simple tips that help us address and dismiss cravings—on the spot. For long term help, she shows Dave the step-by-step instructions for a meditation specifically designed to retrain the brain away from addictions and into lasting transformation.
In just 5-7 minutes a day, the meditation: Breaking Addiction by Rearranging your Subconscious Mind can help you conquer addictions and cravings whether they be to food, drugs, alcohol, shopping, sex or basically anything else that tries to control you.
These tools, while fairly simple to do are highly effective in assisting transformation—when done on a daily basis—consistency is key! Dave committed to doing this meditation for 40 consecutive days and he encourages you to commit and see what changes in your life!
Make sure to sync your data from your Oura ring or other tracking devices to see how things like HRV and sleep change as you get rid of addictions.
Sopurkha Kaur has earned the equivalency of a Master's Degree from the Kundalini Research Institute. As a Certified Teacher for the past nine years, she has observed remarkable personal transformations in herself and thousands of other people after consistently incorporating techniques established over 5,000 years ago. Kundalini techniques are designed for the 'modern-day householder,' or busy people who have a desire to heal and evolve through mind-body practices but also need to focus on jobs and families.
What a food craving actually is

Where food cravings come from in the mind

Why breathing and meditation are such highly effective ways to eliminate cravings and that the

techniques learned here can be applied to any addiction or craving in your life

The food industry uses fMRI to engineer their foods to light up certain areas of your brain when you eat their food, leading you into food addictions and cravings

When in the throes of a craving you can immediately engage Breath of Fire (Sopurhka Kaur demonstrated in Episode Two of Inward Bound) to get yourself out of the 'thinking mind' and overcome any craving

Kundalini techniques strengthen the nervous system and the glandular system—enabling you to harness the energy of your mind, allowing you to control your emotions and yourself—effectively taking back that control that food manufacturers are hijacking from us though chemical strategies

Learn a specific meditation for lasting change: Breaking Addiction by Rearranging Your Subconscious Mind

When dormant, the pineal gland makes mental and physical addictions seemingly impossible to kick—meditation activates the pineal gland.

This meditation also engages the pituitary gland which supports and balances the entire endocrine/hormone systems. 

Gain radiance and vitality to set yourself free from demoting patterns
Join us on Facebook Live for new episodes of Inward Bound, where Dave Korsunsky interviews experts in the areas of mindfulness, meditation, and other body awareness techniques and explains how you can track them through Heads Up Health to learn more about how to support your unique health and body.
About Heads Up Health
Heads Up Health is an app designed to empower individuals who want to take a self-directed approach to managing their health. Instantly centralize your medical records, connect your favorite devices and apps (e.g., Oura, MyFitnessPal, Keto-Mojo, FitBit, Apple Health, MyMacros+, Withings and many more) and use data to optimize your health.
About Awareness Generation
Awareness Generation elevates workplace productivity, engagement, teamwork, and health by teaching people how to transform stress into vitality. Our unconventional programs are taught on or offsite in varying length workshops—customized to the business goals. Programs are people-centric, can be infused into any industry, are offered across the globe, and are focused on Igniting Human Brilliance in the Workplace.