Health Data used to be a major challenge for Health Practitioners, especially when looking at multiple patients, cohorts, or entire patient populations.
The sheer volume of data and lack of helpful tools made it nearly impossible for practitioners to accurately analyze the data just to make informed decisions.
Fortunately, now health professionals have access to new efficient solutions that can help them easily distinguish between useful signal-based insights and unnecessary noise so they are empowered with actionable knowledge quickly – regardless if you're assessing one individual client, an entire group cohort, or your whole patient population!
Welcome to your new health data toolset for 2023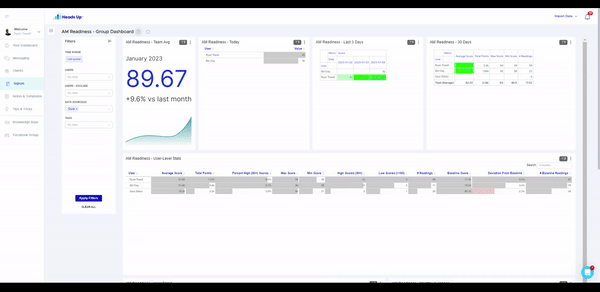 We are pleased to announce the release of "Signals", our new reporting module for tracking outcomes across your practice.
Signals lets you define the exact outcomes you are looking for inside your client data set and delivers the data in curated reports specific to your needs.
Here's a few examples of what's possible with Signals:
Adherence

Ensure clients are performing the actions needed as part of their program
Example:

Show all patients/clients who have not weighed in for more than <3> days.

Out-of-range

Identify clients whose values have gone out of normal range
Example:

Show all clients with blood glucose readings >180 mg/dL over the past week

Connectivity

Easily track device and lab connection status across all clients
Example:

Show Oura ring connection status for all clients

Cohort analysis

Track outcomes across any cohort of clients
Example:

Show the average Hba1c improvement across all Type 2 Diabetes clients over the past six months

Leaderboards

Create fun and engaging health challenges for your clients with optional incentives
Example:

Show a "Steps" leaderboard for all clients in the practice

Symptom tracker

Allow clients to self-report common symptoms
Example:

Show me all clients on Semaglutide who reported nausea symptoms

Algorithm development

Custom algorithms to look for trends across one or more data sources
Example:

Show all clients with Vitamin D3 levels <30 ng/mL AND baseline Oura HRV <20ms

Create your own

Our team can create custom reports to capture any signals you are looking for
Tedious, time consuming and otherwise complex data analysis tasks can now be automated and reported in seconds saving valuable clinical time in the practice.
Signals pulls everything together, giving you access to multiple channels of health data that are already algorithmically computed, filtered, and reports ready. Providing you with pure signal and zero noise in seconds; improving Health Intelligence.
Login to Heads Up and play with Signals now or sign up for a free starter account.
Heads Up is committed to giving health professionals cutting-edge tools that drastically reduce manual data management costs while providing powerful information needed to do their job well and stand out from the crowd.
Remotely track vital signs, symptoms, outcomes, run studies, validate treatments, quickly see who is out of range, provide protocols at scale, and so much more.
Heads Up + Signals is the industry's first multi-dimensional health intelligence software.
Signals is a resource-intense system because it works over millions of unique data points across hundreds of sources. It's costly from a digital computation and management standpoint, but incredibly cheap compared to manual data management approaches that were being used before.
Fortunately for health professionals, the cost savings of running Signals opens up new levels of health intelligence with more efficiency and speed.
This is why we believe every health professional should experience the magic of Signals.
So, we built out a set of Free Signals Reports you can run right now!
Assessment Results
Daily Wellness Assessment
Exportable Datasets
Sensor Reading Blood Glucose Data
Health Tracking
Leaderboards
Nocturnal HRV – Group Dashboard
Weight – Group Dashboard
AM Readiness – Group Dashboard
Steps – Group Dashboard
Calories Burned – Group Dashboard
Blood Glucose – Group Dashboard
Vitamin D3 – Group Dashboard
Patient compliance
Remote Patient Monitoring
System reports
Sign in here and enjoy your new year's gift or if you don't have an account, register here for your Free Health Practitioner account and start using the new Signals features today!
With Gratitude,

Heads Up 

Want a custom Signals Report? 
Heads Up can custom-build you just about anything you want.
Email us here and let us know what you are looking for!