Essential Health Monitoring for COVID-19
Good data leads to informed decisions. We've created a free version of our health dashboard that makes it easy to self-monitor vital signs for you and your loved ones.
Sign Up For Free
"Tracking your vital signs at home, especially for those already infected or at higher risk for complications, can be a helpful tool for you and your loved ones. The data can also be very helpful for your doctor in determining if you should stay home or seek medical attention."
Know your health stats
Our team has designed a curated dashboard that makes it easy for you and your loved ones to track essential health metrics. These metrics include:
Body Temperature

Resting Heart Rate

Blood Pressure

Blood Oxygen
Tracking these vital signs in one place can make it easier to self-monitor your health status at home and can help you and your doctor determine if/when you should seek medical attention.
Track trends and create  reports for Covid-19
Use our simple graphing tool to monitor your health stats over time. 
The trends can often be much more useful than individual data points. 
Easily create and share reports with your family or care team members.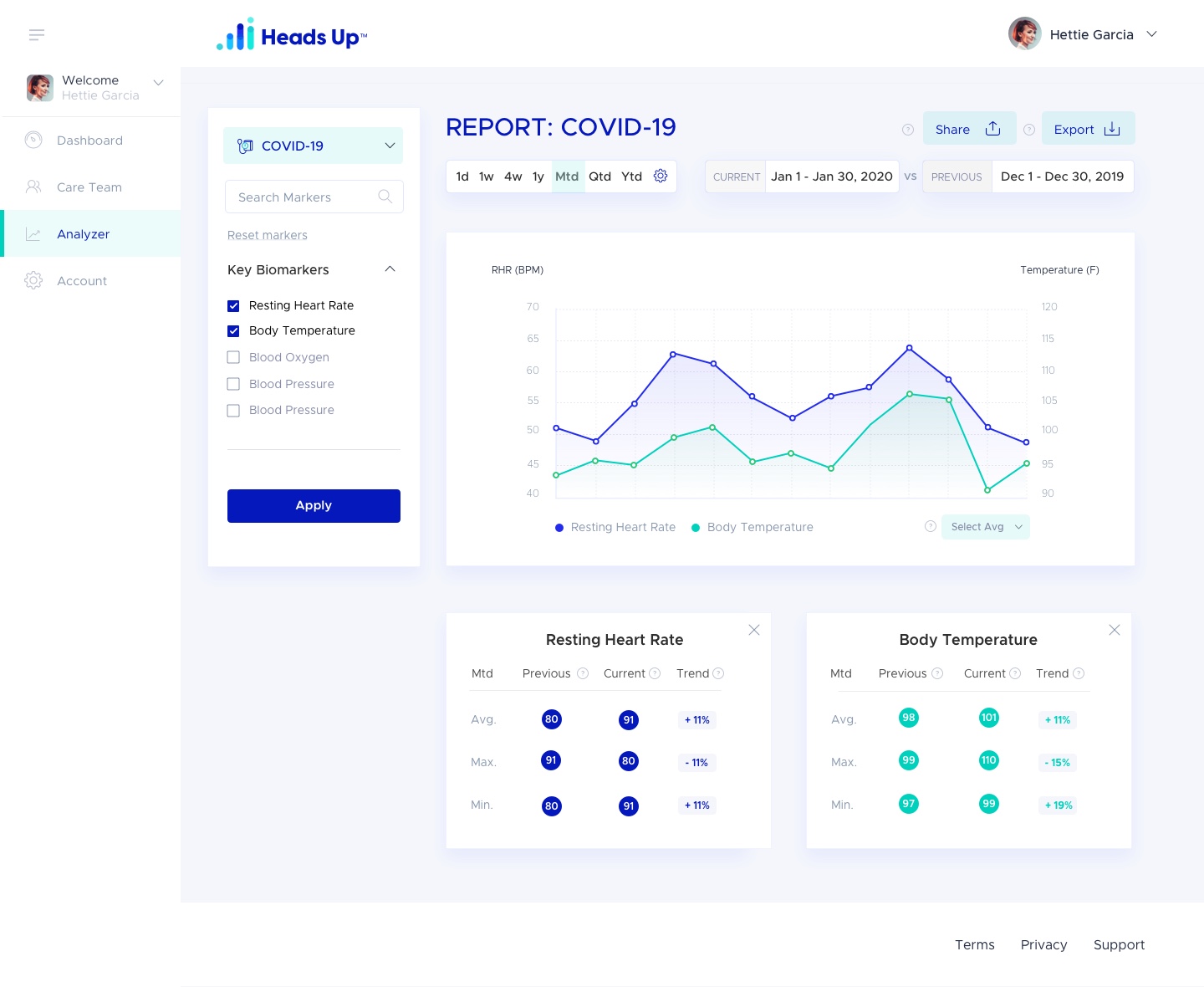 For Health Professionals & HR Teams
Looking to use our dashboard with your clients, patients or employees? Our Professional Edition provides a powerful solution for remote health monitoring.
Customized dashboards with the metrics that matter most to your business
Integrates world-class digital health wearables and apps (Apple Health, Oura ring, MyFitnessPal, Keto-Mojo. Biostrap) and many more)
Advanced medical records integrations for tracking clinical outcomes

Validate the effectiveness of your health & wellness programs and protocols.
Frequently Asked Questions
Is it really free?
Yes! While we still offer our fully-featured paid version, we've created a simplified version as our way of helping out in this global pandemic. We want to provide tools to help individuals more effectively self-monitor and know when to seek medical attention. This version will be available for free through September 30th, 2020. We will extend if necessary.
I already have a Heads Up account. Can I still use the COVID-19 dashboard?
As an existing Heads Up user you already have access to these metrics and many more. Just login as you normally would and add these metrics to your dashboard.
I don't own a thermometer, pulse oximeter or blood pressure monitor. Where can I get these devices?
You can find these at most pharmacies and online. They are inexpensive and a worthwhile investment.
Can I track other metrics on my dashboard?
Yes – our full featured health monitoring app lets you track all your health metrics. Connect your favorite devices and apps (Apple Health, MyFitnessPal, Oura, Biostrap, FitBit, Garmin etc) and track the metrics that matter most to you. We will provide an upgrade path in the near future.
Can I connect my family members, doctors and other members of my care team?
Yes. Our 'Care Team Access' feature allows you to share your profile with your care team members. You can also disconnect other users from your profile at any time.
I am a health practitioner. Can I use this with my clients?
Yes. Our Professional version is currently available by invitation only. If you are interested in using Heads Up to monitor your patients, please check out our Pro version here. 
Can I track my medical records on my dashboard?
Yes – our software can sync your health records electronically from your current and past doctors. We will provide an upgrade path to the paid version in the near future for those who are interested.
Do you have a mobile app?
Our free covid-19 dashboard is currently only available through a web browser. Most mobile web browsers should work just fine. We may offer a mobile app in the near future depending on the need. 
What happens to my account after Covid-19?
If you still want to use our app, you can roll over to one of our paid plans. You will get a 30-day trial of the full version before you need to subscribe. If you don't want to upgrade you can delete your account, which will permanently remove all your data from our system.
Still have questions, comments or feedback?
Contact our team at support@headsuphealth.com. We'd love to hear from you.
Why are we providing this free service?
"Heads Up is a digital health analytics company based in Scottsdale, AZ. Our team felt we could provide a highly valuable service during this pandemic so we've created a special version of our consumer app which we are offering at no charge for those who need it. As the public health crisis escalates, prevention and early detection become increasingly critical for saving lives. Therefore, we felt it was imperative for us to help empower individuals with self-monitoring tools that are freely accessible to all."
Our special COVID-19 dashboard is free during the pandemic for anyone who needs it.