Supercharge
Your Keto-Mojo
Instantly sync your Keto-Mojo with Heads Up. Create your customized keto dashboard and see the big picture of your low-carb keto lifestyle!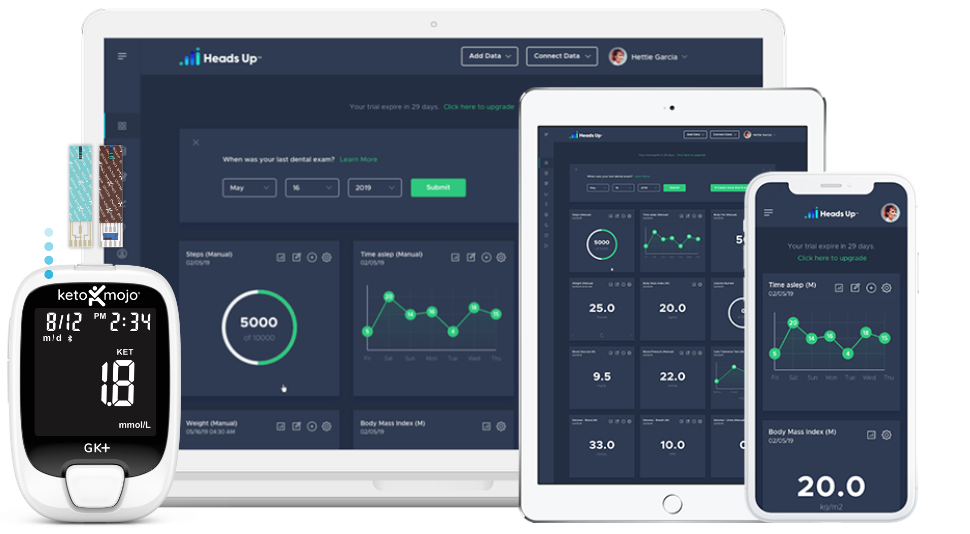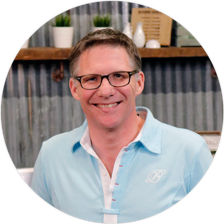 DORIAN GREENOW (aka Mr. Mojo)
FOUNDER & CEO, KETO-MOJO
"Heads Up is the perfect place for Keto-Mojo users to track, trend and compare their readings alongside all of their other vital health metrics. We are excited about our partnership and working closely with the Heads Up team on more great features. Stay tuned!"
Instantly Sync Your Keto-Mojo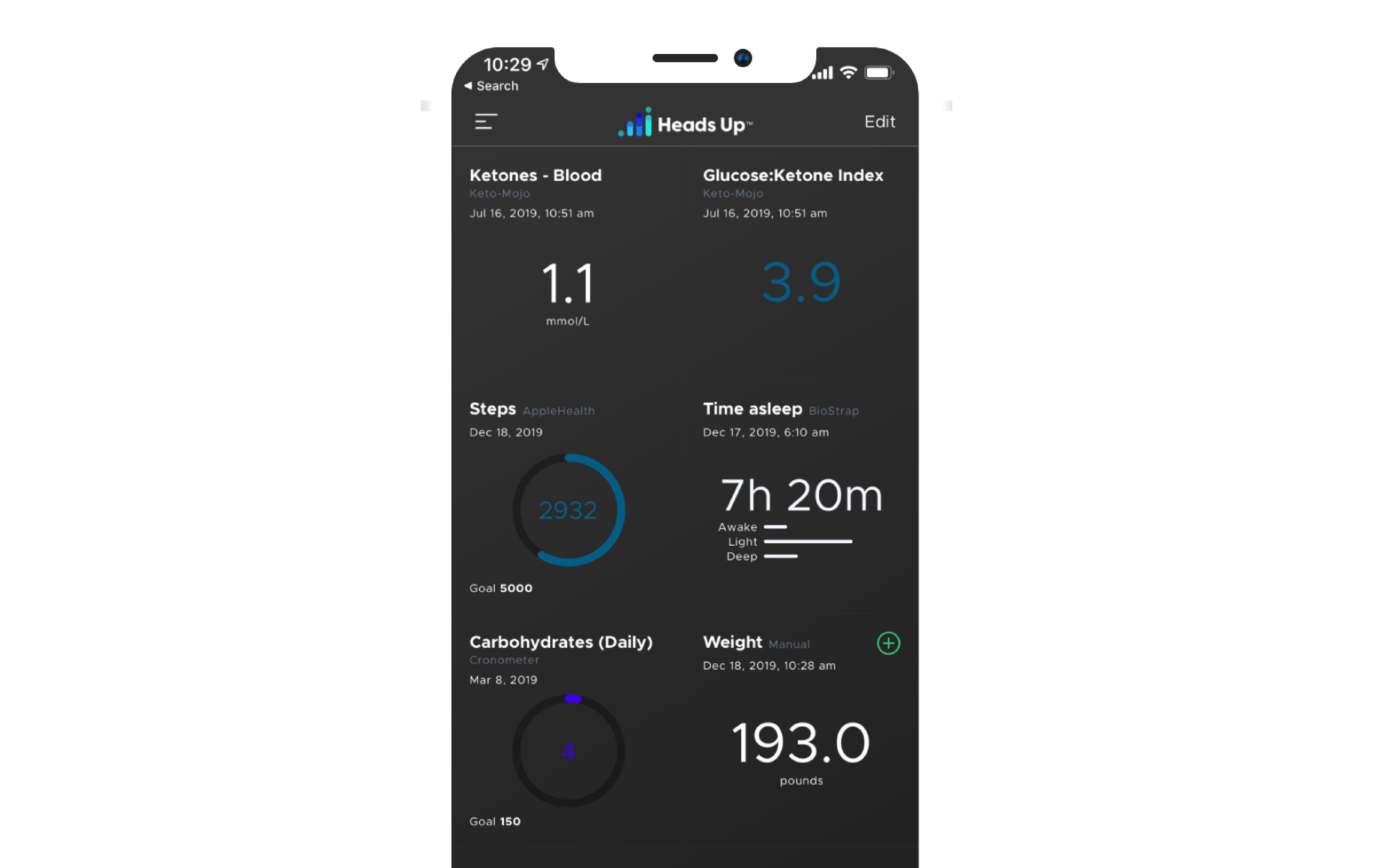 Create Your Keto Dashboard
Take a deeper dive into your metrics and define what matters most to you with a fully customized dashboard. See everything with a wider scope to gain full control over your health metrics.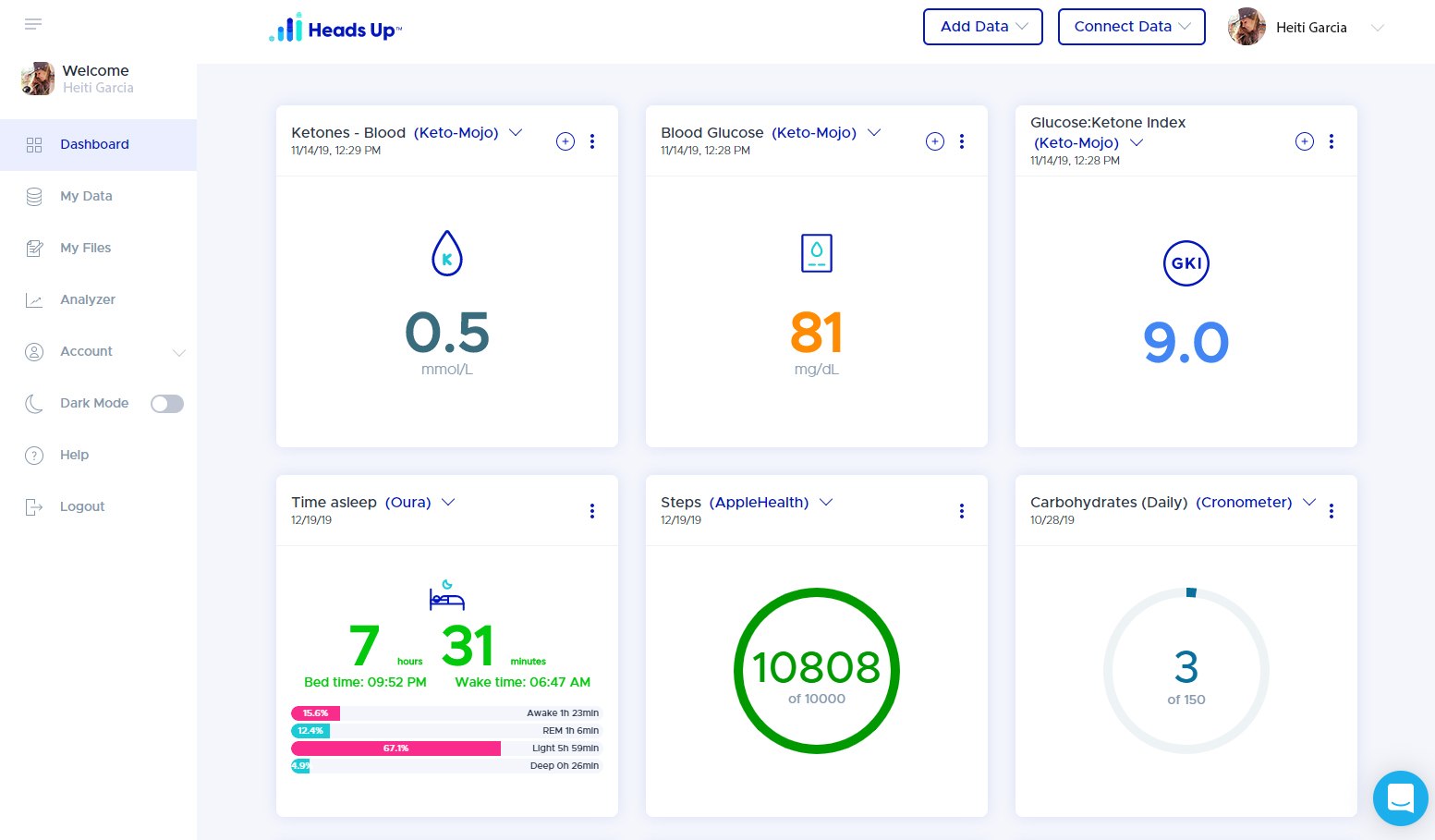 Track the Glucose-Ketone Index
We instantly calculate the GKI. Track and trend this important metric alongside all other health metrics.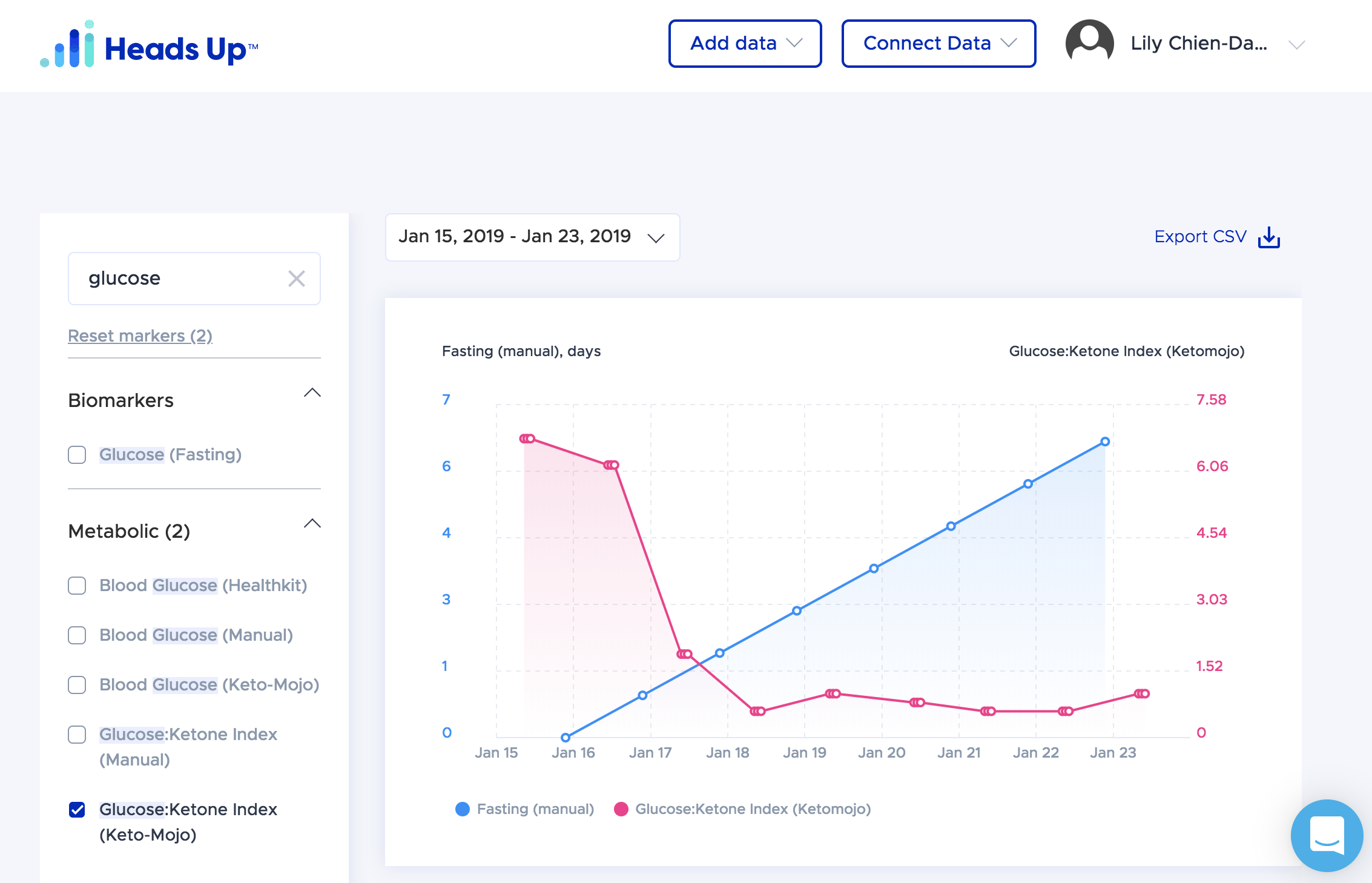 Monitor Your Fasting Intervals
Use our fasting timer and your Keto-Mojo to see how your blood sugar, ketones and GKI change before, during and after you fast.
Master Your Medical Records
We use cutting edge technology to instantly integrate lab tests from your doctor. See how your low-carb keto lifestyle is improving your health!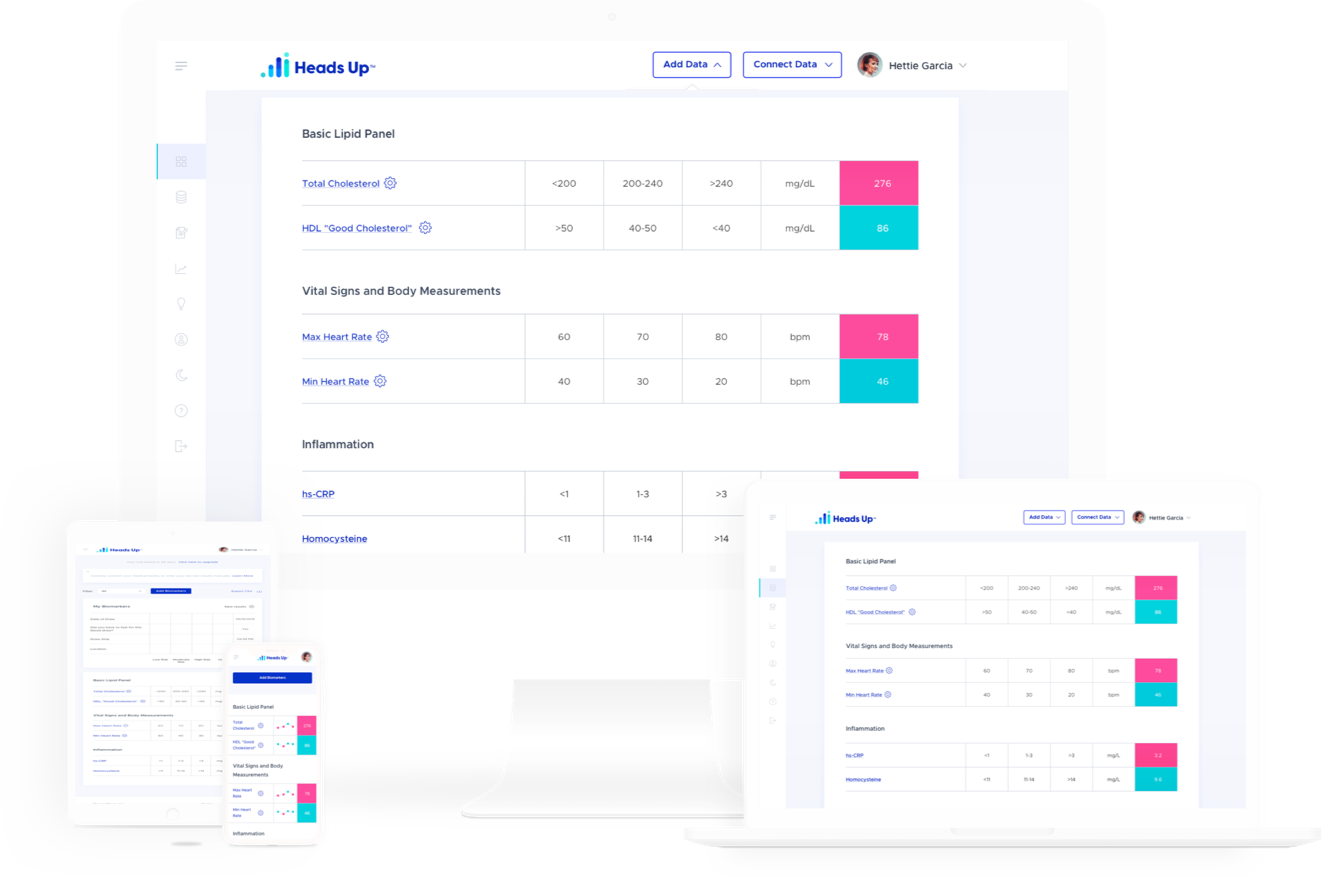 Heads Up! Special Discount:
Keto-Mojo™ GK+ Blood Glucose & Ketone Meter Kit – PROMO BUNDLE
The GK+ Keto-Mojo meter takes the guesswork out of ketosis and helps you dial in your ketogenic diet. It's an essential tool for anyone following a keto or low-carb diet for weight loss, diabetes, general health benefits, or therapeutic purposes. Read More...
*Use the link below and get an additional 15% off at check out!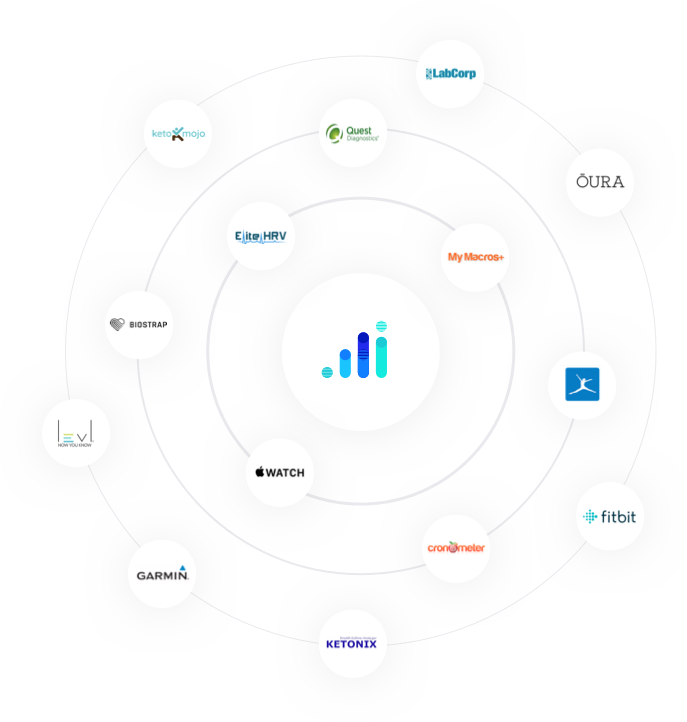 Instantly see the big picture
With one click you can instantly link up all your other data sources. Instantly see all your health metrics on one beautiful dashboard.
Sleep metrics (Oura, Biostrap)
Activity & fitness (FitBit, Garmin, Apple)
Nutrion data (Cronometer, MyFitnessPal, MyMacros+)
Body composition 
Lab test results
…and much more ..