AndHealth is a digital health company that treats patients remotely for chronic autoimmune conditions with a focus on root causes and participatory healthcare.
AndHealth was started by founder and CEO Matt Scantland, previous co-founder and CEO of CoverMyMeds, one of the largest healthcare technology companies in the United States. He was motivated to begin the company through his personal experience with a chronic condition, and how participatory healthcare can help reverse chronic disease.
AndHealth recognizes that health is largely driven by social factors including nutrition, stress, sleep, and movement. Their approach aims to stop autoimmune disease progression by addressing root causes. They also aim to reduce the need for biologics typically used in conventional medicine to manage autoimmune conditions, which have the potential to cause long-term side effects.
AndHealth uses remote patient monitoring powered by <ŌURA> and Heads Up to support clients on their journey to health through continuous and virtual healthcare. They utilize a multidisciplinary team including physicians, gastroenterologists, rheumatologists, and PharmDs with access to PhD researchers and individuals from the <Institute of Functional Medicine>.
Their autoimmune reversal program launched in early 2023 initially focusing on migraines, psoriasis, psoriatic arthritis, rheumatoid arthritis and inflammatory bowel diseases including Crohn's and ulcerative colitis.
Business Challenges

Unlike conventional approaches to auto-immune conditions which rely mainly on pharmaceutical interventions, AndHealth emphasizes a root-cause approach focused on addressing and optimizing lifestyle factors (diet, sleep, exercise, stress) as the primary focus of treatment.
A technology solution was required which could remotely capture patient biometrics on diet, sleep, exercise and stress on a daily basis. This data needs to be relayed to AndHealth patients, providers and health coaches to enable real-time monitoring, patient education and remote health optimization.
Technology Solution
AndHealth partnered with Heads Up and Oura to develop a remote physiological monitoring solution for their auto-immune program.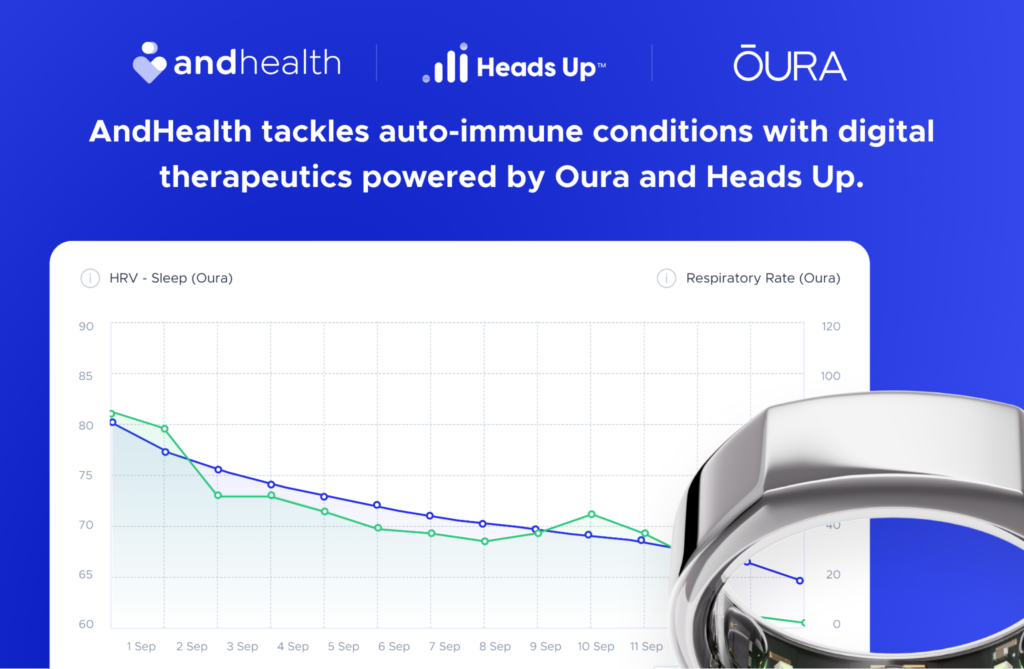 Oura Ring
Each patient in the Autoimmune program is equipped with an Oura Ring upon enrollment.
Oura Ring allows AndHealth to remotely capture important biometrics on a daily basis indicating how well each patient is managing their physical recovery, stress levels, sleep, and exercise.
The data points from Oura Ring are used in the program to identify when patients might be getting run down or sick which can lead to an increased risk of an autoimmune flare. The data is also used to help patients create tiny habits to improve sleep, movement, and stress management.
Heads Up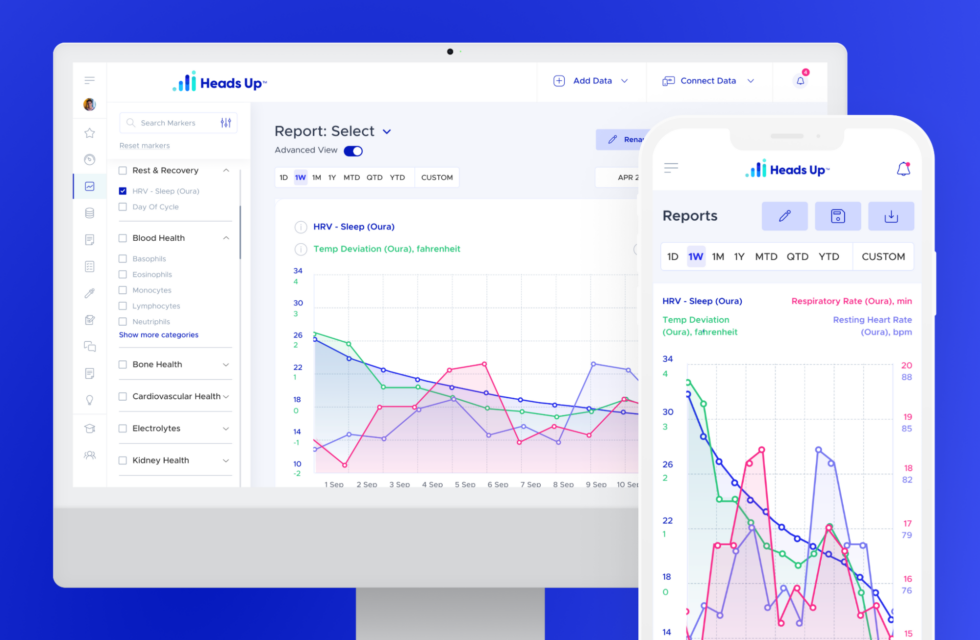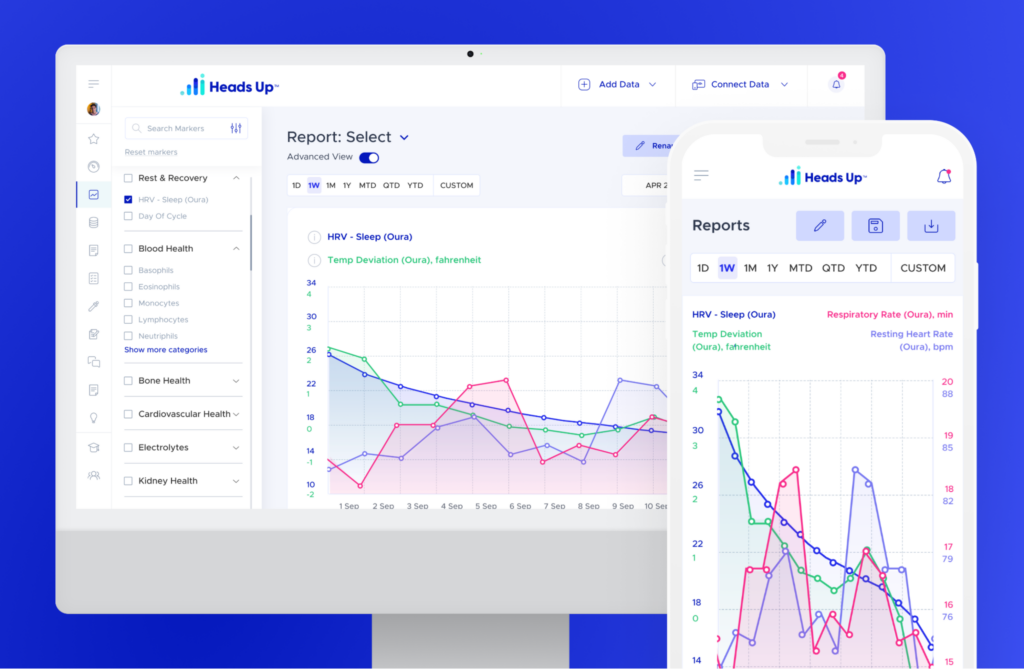 The Heads Up platform holistically integrates Oura data from all patients into a centralized platform.
Patient-facing dashboards enable individuals to engage with their biometrics so they can learn how corrective lifestyle actions lead to improved health. Provider facing dashboards put Oura data from all clients on a single screen for fast and easy analysis.
Customized reports help providers track cohort outcomes and personalize the program for each patient. Alerts are configured to flag biomarkers that are trending out-of-range.
Additionally, Heads Up is being used to centrally manage other forms of biometric data including lab results and other forms of objective and subjective patient-generated data.
AndHealth Coaches
At the core of the AndHealth auto-immune program are the health coaches that support clients on their journey toward optimal health.
These health coaches are trained through reputable health coach certification programs and work with AndHealth's physicians to review patient data, educate patients and coordinate care.
Outcomes
Leveraging advanced wearables like Oura Ring with remote monitoring software from Heads Up opens up new treatment possibilities for AndHealth.
Powerful views into patient health outside the doctor's office are now possible. Lifestyle factors contributing to a patient's condition can be flagged and used for corrective action and patient education. Outcomes can be assessed using biomarkers like heart rate variability in addition to conventional biomarkers such as diagnostic lab results.
Let's explore a couple specific examples.
Early detection
Patient A in their 60's has psoriasis and psoriatic arthritis. They started several supplements to improve gut health as part of their AndHealth treatment plan.
On March 17 the patient reported one of the supplements was causing gas, bloating and GI distress. On March 21 they started to have body aches, headaches and felt feverish.
Oura Ring measures temperature trends while sleeping. A sudden rise in skin temperature can indicate an auto-immune flare or impending illness such as an infection.
Upon review of their Oura data in the Heads Up platform (see figure x), the AndHealth team noted an increase in their temperature by 3 degrees along with a drop in HRV and an increase in respiratory rate and heart rate.
Figure X: Patient A – Heart rate variability, resting heart rate, temperature deviation and respiratory rate for patient experiencing GI distress due to COVID infection.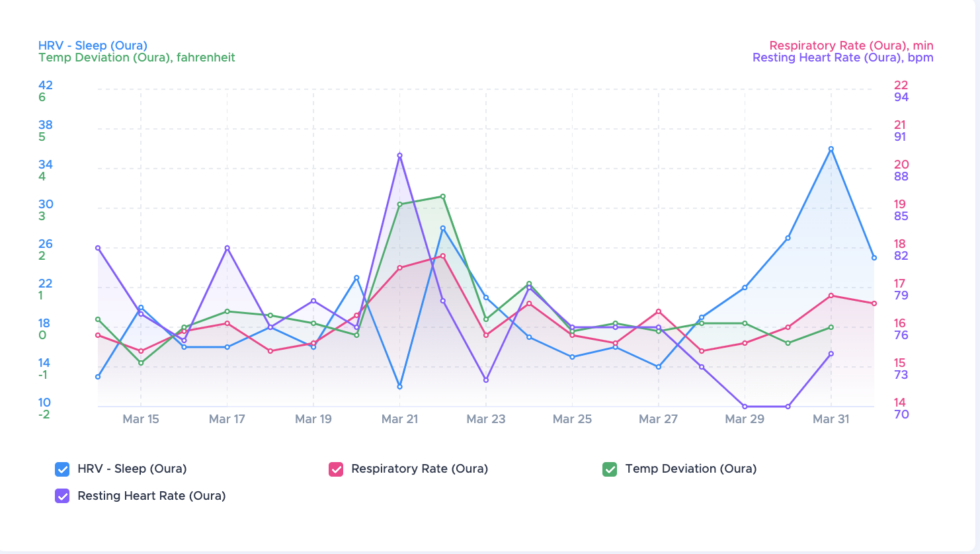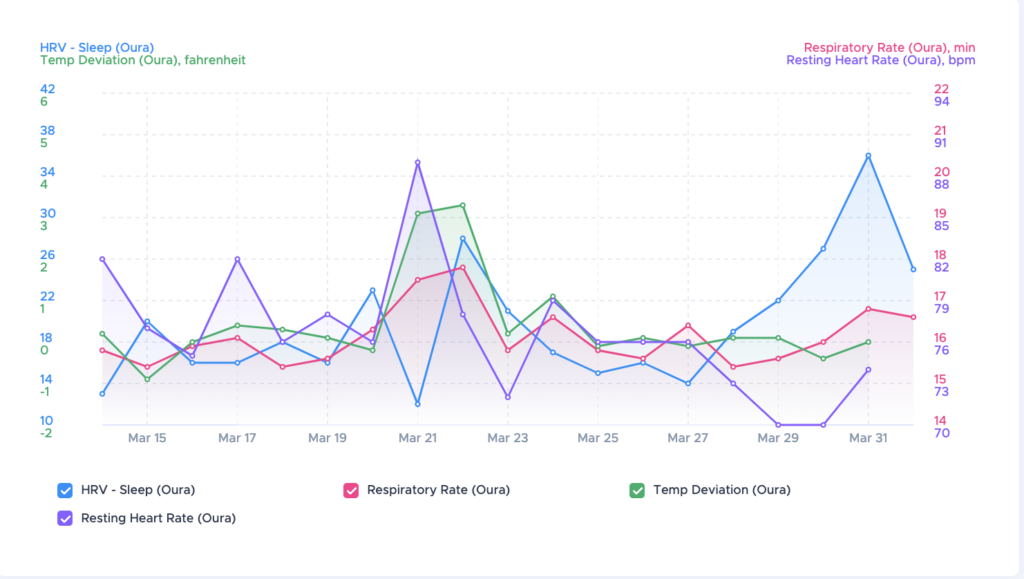 The Heads Up platform flagged these abnormal readings enabling AndHealth providers to reach out with corrective action.
AndHealth encouraged the patient to get tested for Covid which can present with GI symptoms. The patient ended up testing positive and once their illness resolved they were able to maintain the supplement protocol without side effects.
Patient education
Patient B is a 55 year-old male engineer with significant family stressors. He has a "Type A" personality and manages stress with intense exercise. He regularly goes on long bike rides (16-30 miles) where he also incorporates high intensity sprints.
In this example, he went on three 30 mile bike rides with sprints. After the first bike ride, his HRV dropped and he started experiencing joint pain. By the third day he had to go on prednisone due to a flare of rheumatoid arthritis.
Figure <y>: Patient B – Decrease in heart rate variability due to overtraining correlating with physical symptoms of rheumatoid arthritis.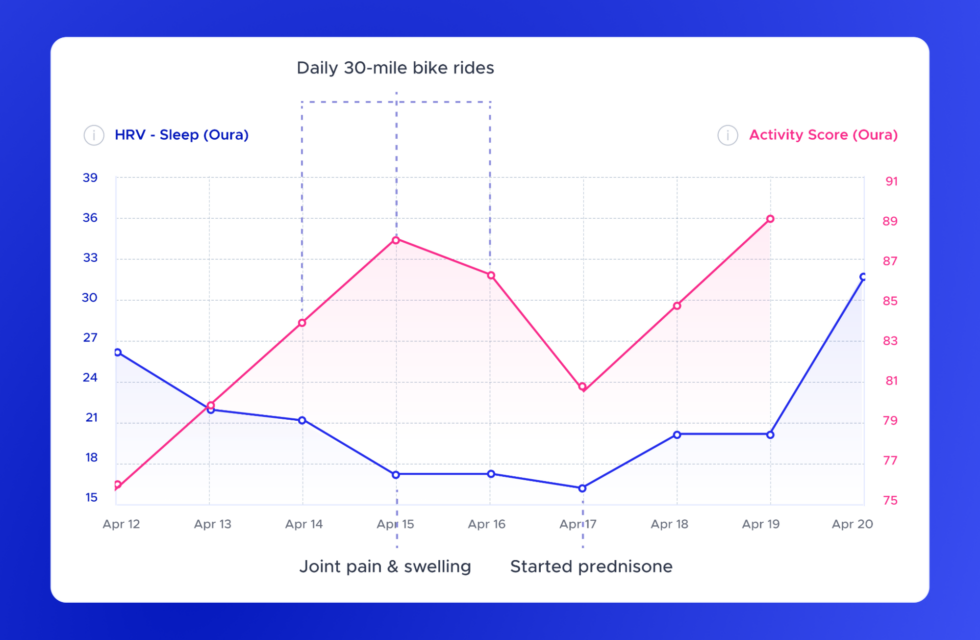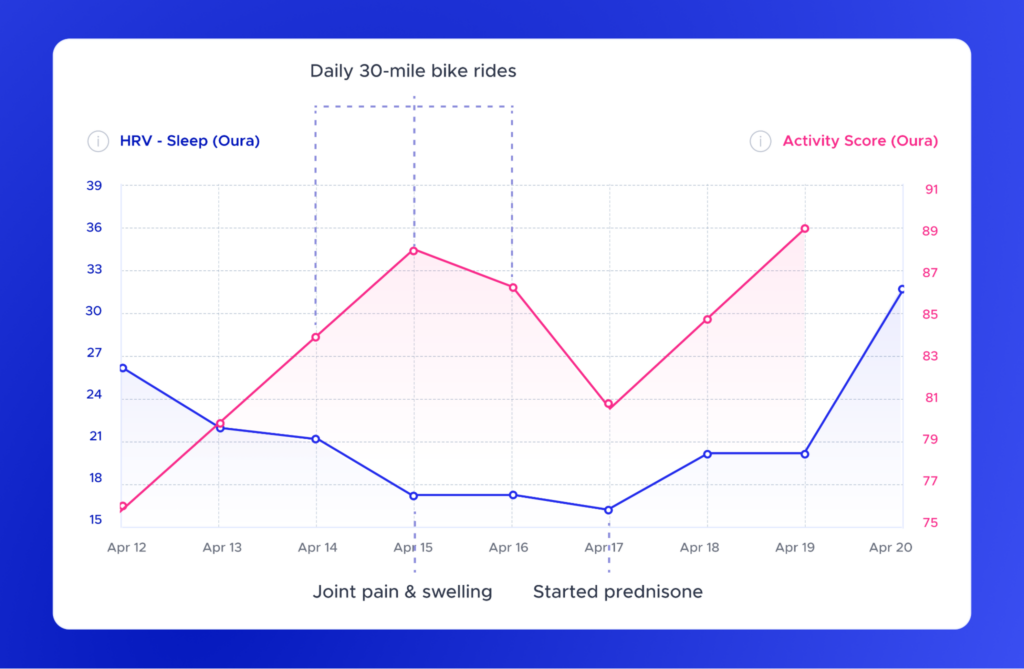 Exercise in autoimmune patients is important and has been shown to improve depression and anxiety, improve fatigue and increase endorphin production to improve pain.
However, excess exercise can lead to microtrauma and trigger an autoimmune flare[1]. Finding the right balance of exercise for these patients is an important part of the treatment plan.
In this one instance, AndHealth was able to show the patient a graphical example of how excessive physical training was lowering his HRV and ultimately leading to an auto-immune flare.
Being an engineer, this patient was very interested in tracking and learning about his Oura data. He was educated about HRV and now if he sees a drop in HRV after intense exercise, he modifies his workout to focus on activities that are more restorative. He's had no further flares of his Rheumatoid arthritis.
Summary
AndHealth has created an innovative approach to the management and treatment of autoimmune conditions built on Oura Ring and the Heads Up platform.
The program integrates data from wearables like the Oura Ring and with conventional laboratory testing with a functional medicine approach to treatment.
AndHealth can help patients target the lifestyle behaviors that most impact the severity of their condition and reduce the use of conventional biologics for symptom management.
As a result, AndHealth has shown clinical data that support their protocol, increased patient engagement and satisfaction with the program and increased success for their patients and multidisciplinary team.
Interested in a similar solution for your practice?
Schedule a session with one of our specialists to demo and learn how to integrate Heads Up into your organization.