About GladdMD
GladdMD is an Indiana-based integrative practice that sees clients both in-person and remotely from all over the world. They rely heavily on their relationships with patients and aim to partner with them on their journey to optimal health.
GladdMD was founded in 2010 and is headed up by Dr. Jeff Gladd, a physician entrepreneur and sought-after expert who turned to integrative medicine after his own health journey and education through the University of Arizona Integrative Medicine fellowship. GladdMD provides a holistic approach to patient health blending conventional and functional approaches with a customized diet, nutrition, and lifestyle interventions.
Business challenges
GladdMD runs a number of different health optimization programs with their clients. These programs are offered virtually with one-on-one consultations and group visits. 
By adding a remote monitoring component to their ketogenic weight loss program, GladdMD was seeking to address a number of challenges:
Without an easy way to monitor glucose and ketone readings on a daily basis, it was difficult for GladdMD clients to objectively verify if clients were in ketosis.

With no solution for remote data collection, it was challenging for GladdMD to personalize the program for each client. 

Without a centralized dashboard, tracking weight loss outcomes at the individual and cohort level was challenging and relied on self-reports from users, spreadsheets and other cumbersome tools.

For clients who have out-of-network health insurance coverage, providing super bills for reimbursement would allow GladdMD to help clients offset the cost of the program and scale the program to more clients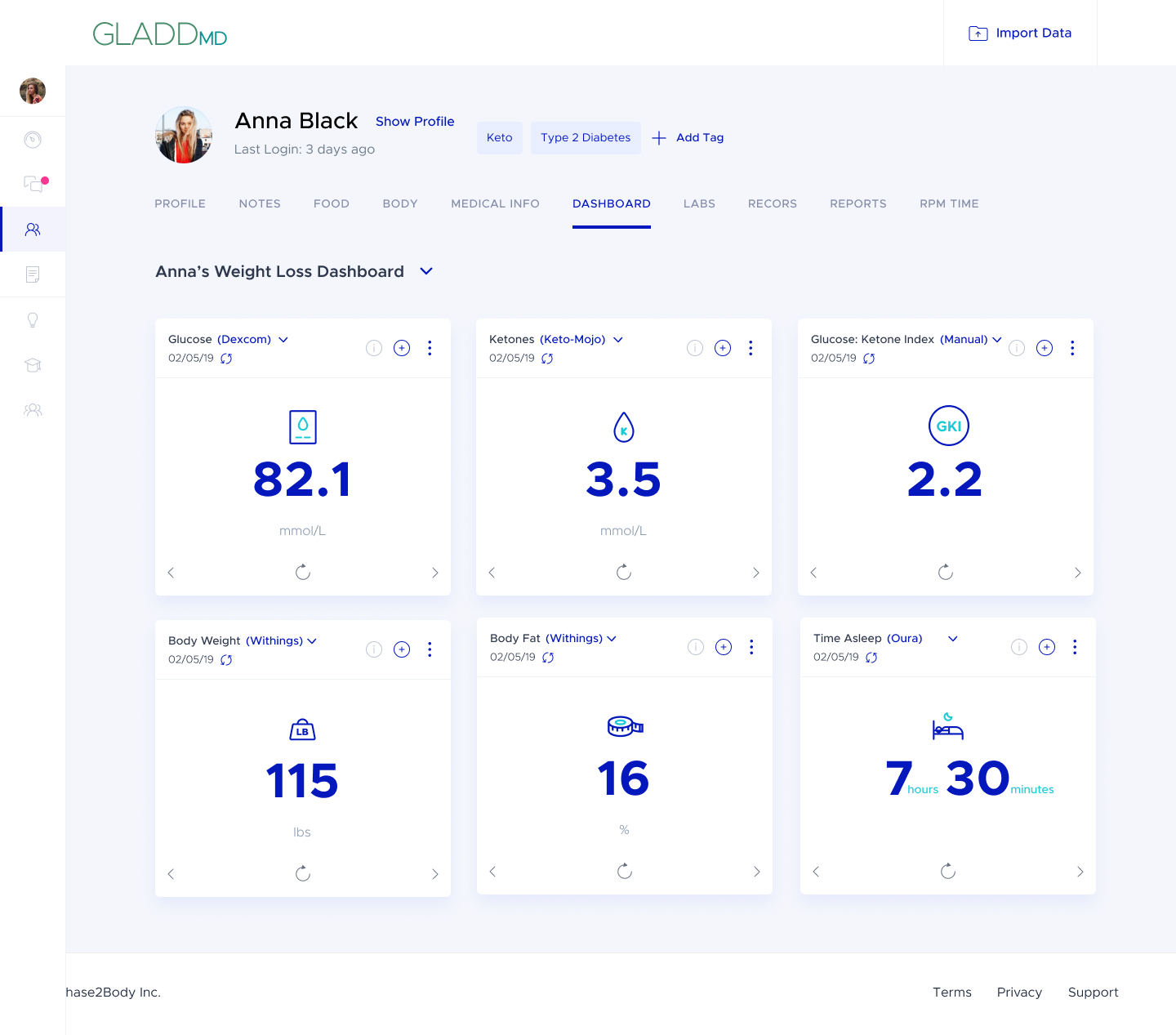 Technology solution: Heads Up & Keto-Mojo
The goal for Heads Up was to create a technology solution for GladdMD to support their unique needs. Heads Up created a custom, centralized dashboard to improve quality of client data tracking and health program personalization.
In addition to this, Keto Mojo, the glucose and ketone meter used by GladdMD for their ketogenic weight loss program is able to be easily integrated into the Heads Up software.
Remote Patient Monitoring Solution

One of the main challenges that GladdMD faced in their ketogenic weight loss program was accurate and easy monitoring of glucose and ketone readings for their clients.

Using Heads Up's wearable integration technology, GladdMD can easily access daily readings from the Keto Mojo wearable, verify the state of ketosis, and improve the efficiency of program personalization.

Additional Lifestyle Data from Other Wearables

Heads Up technology allows for data integration from a number of premium digital health devices and apps. This added value to coaching sessions and doctor's visits by allowing providers to see additional data on physical activity, sleep, and nutrition. 

In turn, GladdMD providers are able to better gauge client motivation for change, target lifestyle areas for improvement, and help clients understand physiological responses beyond weight loss.

Client Dashboard Customization

Heads Up built a custom client dashboard for GladdMD's ketogenic weight loss program. This led to increased client motivation and empowerment due to patients being able to see real-time results from following the program.

To improve brand recognition, Heads Up created a custom dashboard with GladdMD branding.

Health Coach Dashboard

The health coach dashboard built by Heads Up improved the efficiency of monitoring client data remotely. Because all of the client data is centralized, providers are able to spend more time clients focusing on interventions instead of data review.

Patient Engagement Tools

Heads Up provides several tools to improve communication and tracking of client outcomes. GladdMD utilizes the platform's HIPAA-compliant secure messaging, monthly progress reports and other tools for increased patient engagement and retention.

Super bill for clients who can submit for out-of-network coverage.
Leveraging a Health Coach for Remote Patient Monitoring (RPM)
Combining a health coach with RPM is a powerful combination. Health coaches are trained experts in patient engagement and the data from remote devices provides abundant opportunity for coaches to engage, educate and empower clients on their journey to optimal health. 
The health coach at GladdMD, Marina Arambula, runs the ketogenic therapy program on a day-to-day basis. Marina works with clients remotely to onboard them onto the Heads Up platform, connect their Keto-Mojo device and educate clients on how to start measuring glucose and ketones daily.
"Using the Heads Up dashboard has been transformational for my coaching. With these additional tools, I have been able to help clients understand the importance of metabolic health and approach being healthy in a holistic manner."
– Marina, GladdMD Health Coach
Business Outcomes
Using the remote monitoring solution with Heads Up and Keto-Mojo, GladdMD was able to achieve the following outcomes:
Increased efficiency for the practitioner

Heads

Up technology is able to centralize data collection and create reports to track client outcomes. Use of these tools has improved GladdMD's data organization and allowed more targeted interventions to shorten time frames for client outcomes.

Health coach is able to communicate more frequently with doctors about client updates, which reduces time spent on reviewing client histor

Increased patient engagement and retentions

Through the Heads Up platform, GladdMD health coaches have increased communication with clients. These clients develop a deeper relationship with the practice not only with communication with providers, but by seeing visualized data of program progress and success. These features have improved client retention.

Increased revenue for the practice

GladdMD is able to reduce program costs through increased efficiency of data collection and interpretation by providers.

Clients using the dashboard created by Heads Up were able to see reports and visualization of health outcome progress, which led to additional services, increased follow ups

Improved client retention and faster program outcomes increases client trust in GladdMD services. Clients increase new client acquisition by organic word-of-mouth about their successes with GladdMD's health optimization programs.
Clients who have been long-term users of GladdMD services have also seen benefits from the remote patient monitoring made possible by Heads Up technology.
One client thought that, prior to using the Heads Up platform, she was following the protocol for GladdMD's ketogenic weight-loss program. She had some success with weight loss, but her health was not being optimized.
After adding Heads Up to her care, the health coach and client were able to see objective data showing that the patient was not following protocols as well as she originally thought. With the help of the health coach and ongoing data monitoring, the client was able to course-correct her actions and have significant improvements in weight loss.
Conclusion
GladdMD is an integrative practice dedicated to helping patients achieve optimal health through nutrition and lifestyle interventions. Heads Up helped bring remote patient monitoring in GladdMD's ketogenic weight loss program to life. 
To address their issues of centralized data collection, easy client health outcome tracking, and daily lab monitoring, Heads Up created a seamless user experience for both clients and practitioners.
As a result, GladdMD experienced increased practitioner efficiency, increases in client engagement and retention, and overall increased practice revenue. Health coaches and practitioners with GladdMD are able to focus on tailoring program interventions to client needs, improve consistency of ketosis, and developing relationships with their clients.
Heads Up technology increases success for both practitioners and clients in healthcare delivery systems that use remote patient monitoring. 
Interested in a custom data portal for your practice?
Schedule a session with one of our specialists to learn how to integrate Heads Up Health into your organization and demo the Heads Up platform.