Supplement Brand Validates New HRV+ Supplement Using Decentralized Digital Health Monitoring Technology That Automatically Collects Sleep & Behavioral Data Through Wearables & Assessments.
Decentralized Health Research Platform
Introduction:
Mode+Method is looking to validate a new product in the supplement space aimed at increasing a customer's HRV with a goal of rapidly scaling sales this calendar year.
Business Challenges
Mode+Method primary challenges were finding users to test the product, the cost of collecting, managing, and analyzing health data, finding the right partner(s), with a flexible platform. Lastly, Mode+Method did not want to be limited into taking a rigid data collection and development environment.
The end result Mode+Method aimed for:
Mode+Method needed a device-agnostic flexible software solution that could automatically capture the health data they needed while also being able to analyze it in near real-time with ease. The goal was to produce health data that can be used to build trust by making objective claims in their sales and marketing materials.
In the future, Mode+Method wanted a model that could be replicated for discovering product opportunities and validating new products that they develop.

"We used the Heads Up platform to validate our new product targeting nocturnal Heart Rate…to aggregate the study data from multiple wearable systems. The platform seamlessly ingested HRV and sleep data from Oura ring & other wearables, and the reporting tools made outcomes analysis a breeze."

Don Moxley – Director Of Applied Sciences @ Longevity Labs (Mode+Method)
About The Industry
The supplement industry is one of the most competitive and fastest growing industries in the United States. There are over 29,000 dietary supplements available in the U.S. market, with approximately 1,000 new supplement products being introduced to the market every year.
Despite being such a large market, with an estimated 77% of Americans taking at least one supplement, 59% of global consumers want to see scientific evidence supporting supplement efficacy. Many factors play into this, such as legislation that limits the regulation of most dietary supplements, the presence of "snake oil" supplement brands that devalue the reputation of other brands, and limited research on the effectiveness of supplements.
The scientific awareness of the consumer has evolved post-COVID, partially thanks to new interest in longevity and immunity enhancement. Consumers are no longer only swayed by marketing techniques and older research on individual ingredients, consumers want evidence that the "specialty blends' developed by supplement manufacturers work as advertised.
For companies to succeed in this evolving market, validating their products and services with decentralized trials will be necessary to build trust with consumers' purchasing decisions, answering the consumer's authentic question of, "will this work for me?"
About HRV+
Longevity Labs, Inc, the parent company for Mode+Method, is a health and wellness research company specializing in longevity and human aging. They developed the supplement product HRV+ and designed it to optimize performance and boost Heart Rate Variability (HRV), a health marker associated with reduced morbidity and mortality.
HRV+'s active ingredients include cannabinoids extracted from a proprietary hemp oil, curcumin, magnesium, and omega-3 oil.
Business Challenges:
Since Mode+Method is a new supplement company, and they have aspirations to rapidly grow their new product (HRV+) in 2023. They needed a flexible research solution that is cost effective and quick to set up so that they could receive results back quickly.
Mode+Method is focused on producing high quality supplements, and does not have the infrastructure to validate the product with an in-house technology solution. The complexity of organizing the study, obtaining participants, onboarding them, collecting the data and analyzing it needed to be achieved quickly, with help from a partner.
Therefore, Mode+Method searched for a:
Trusted partner who was well-connected to the wellness and supplement industry, and had experience in consumer health data analysis, all while providing top notch user service.
Research process that was simplistic both internally and for the participants.
Flexibility to try new ideas and possibly test new products easily.
Support with participant recruitment and onboarding.
Single platform that could accurately track biometric data from various inputs that could be easily analyzed at both an individual and cohort level.
Solution:
Heads Up Health worked with Mode+Method to create a solution that supported their research goals to validate their product (HRV+) and differentiate themselves in the supplement industry.
Collaboration & Support
Process Driven: Together, Mode+Method and Heads Up created a highly collaborative and process-driven study startup based on Heads Up's experience. 
Accessible: Heads Up works closely with clients to provide an optimal research study experience. For this project, the Mode+Method team and HeadsUp met weekly during the first 4 weeks of their collaboration,
Top-Notch Customer Support: Heads Up provided consistent customer support, not just through study start, but throughout the duration of the collaboration to ensure a smooth user experience.
Speed: Up and running in weeks
The traditional research recruitment process can be tedious and it can take months for companies to get meaningful sample sizes of participants to validate supplement claims.
Heads Up's team simplified the process for Mode+Method by developing a recruitment plan, creating a participant onboarding experience, streamlining the consent process, and creating a customized dashboard experience for data input and collection. Together, these solutions reduced the recruitment time so that the study could be up and running in weeks.
Turnkey experience for study subjects
Built into Heads Up's system are safeguards against participant attrition, which can slow the speed of effective data collection. Heads Up is an easy to use platform, with both customizable and intuitive-to-use desktop/mobile interfaces for participants.
The system allows for low-burden data collection in the form of automated data collection. Heads Up also provides participants with a step-by-step guide concerning expectations and tasks required to be a part of the study. 
Automation & Data Visibility
Heads Up's platform is an integrative technology built around continuous remote monitoring, and supports passive data collection from multiple wearable devices and apps all in one place. In addition to other collected biometric data, Oura Ring wearables were used in the study to accurately measure HRV and other health metrics.
Our platform can easily generate individual reports to hone in on the effects of the supplement on a person-to-person basis, but that's not all.
Heads Up supports automated cohort analysis to ensure adherence to the protocol, help companies review macro trends across the subject population, and get real-time readings on how performance is trending – all at the click of a button. 
Tools In Action:
White-labeled web and mobile app to have unified branding.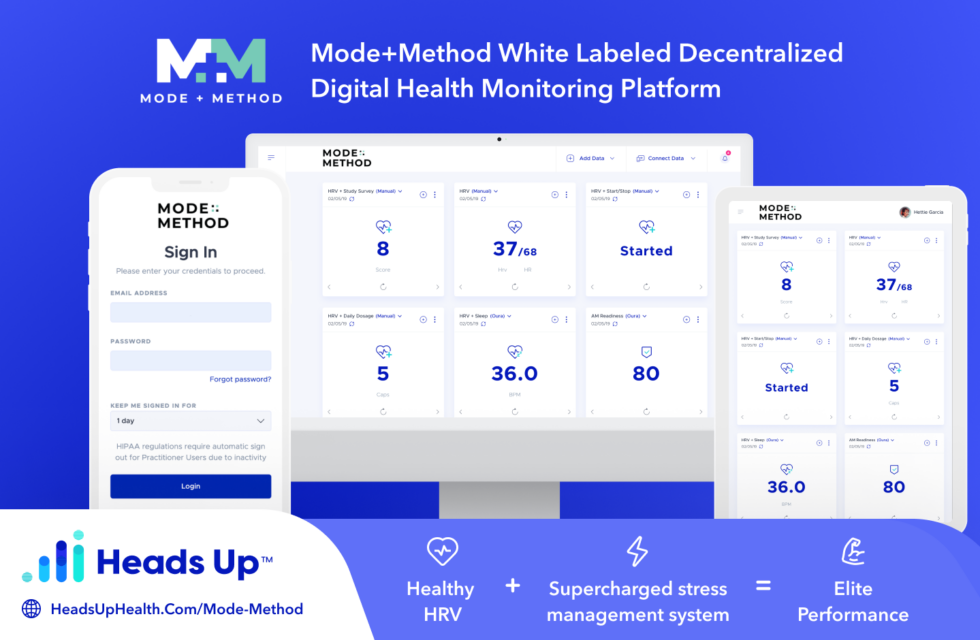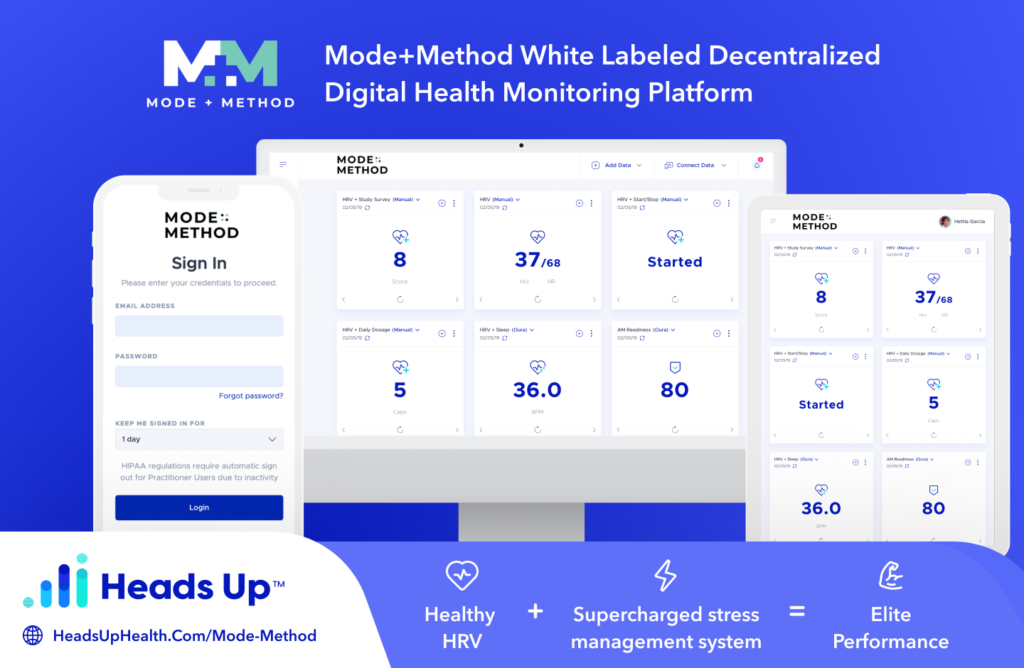 Participant Signup
Custom signup page to promote customer trust.
Custom Video Introduction
Welcome video introduction to build a rapport with the participant and educate them on what to expect.
Participant Walkthrough
Click-by-click platform walkthrough for each participant to ensure they understand the expectations and how to use the platform.
User Consent
Easy click-button consent process to simplify the onboarding experience.
Automated Data Collection
Automatically collected data from wearable devices like Oura that can be set up in seconds.
Assessment Feature
Collect pre and post-subjective data from participants.
Customized Dashboards
Only show relevant metrics to participants.
Signals reports
Automated cohort analysis for quick decision-making and visibility
(ex: out of range tracker, performance snapshots)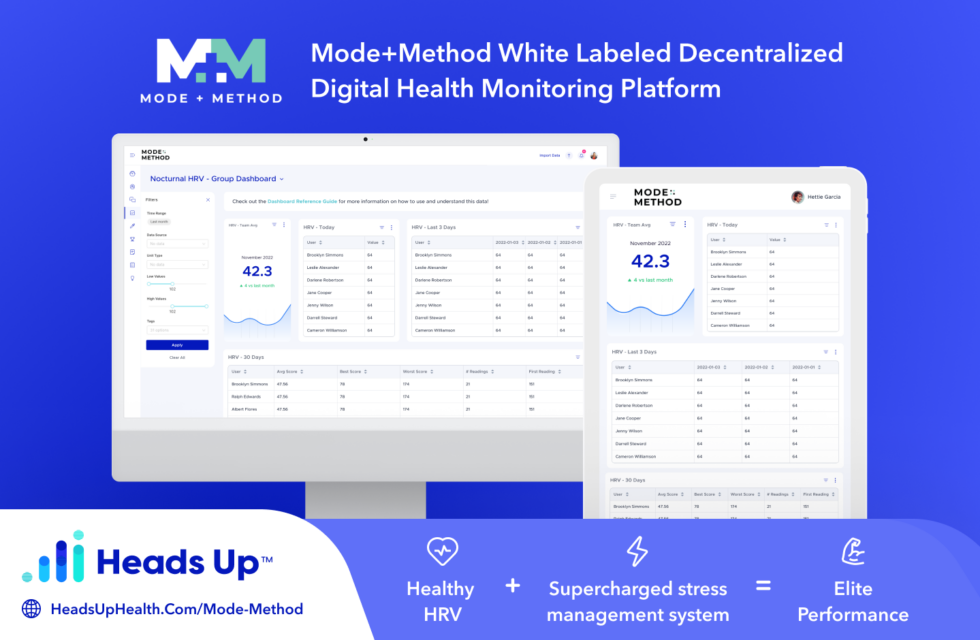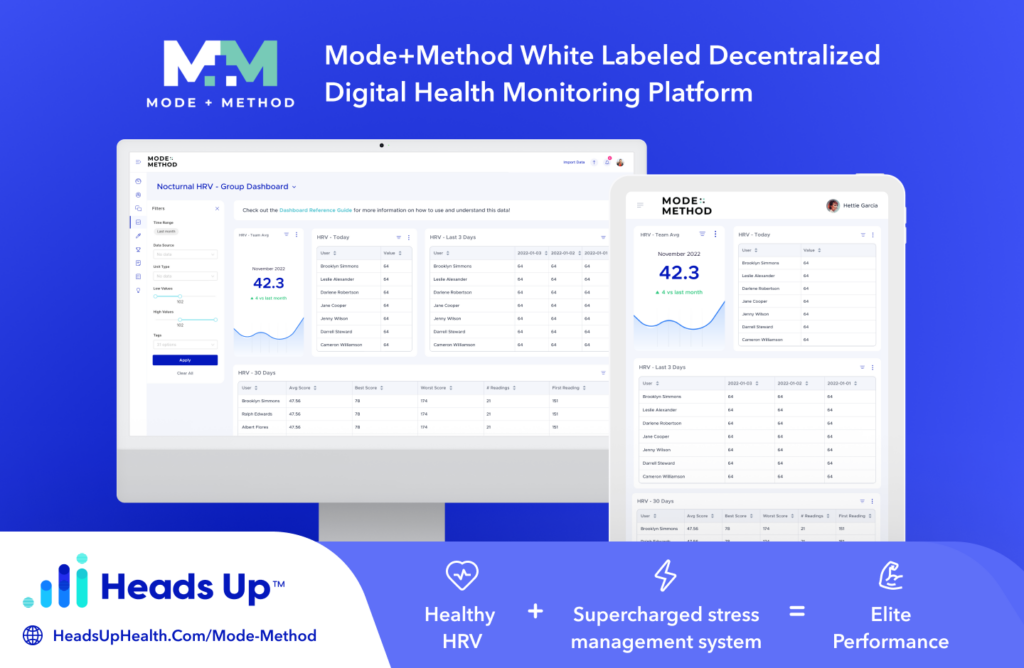 Results
18 individuals were included in the initial cohort of the study.13 men, 5 women. The age range is from
28 to 70, average age=58.

Average baseline HRV score= 37.3ms RMSSD. Average score following protocol = 41msRMSSD. With average improvement of 13.24%. Results included individual improvement of 27.8%, 21.9%,17.4%, and 12.8%.

Average baseline AM readiness score= 78.7. Average AM readiness following protocol= 79.62 for an improvement of 1.1%. Individual improvements included 12.1% and 5.1%.

Average baseline sleep score 80.98. Average sleep score after protocol=82.81 for an increase of 2.3%. Individual improvements included improvements of 11.0 and 6.3%.

Average baseline for WHO (World Health Organization) well being survey prior to protocol=15.84. Average WHO Wellbeing score following protocol = 18.75 for an improvement of 18.4%.


All participants reported an improvement

with individual improvements of 43%, 60% and 88%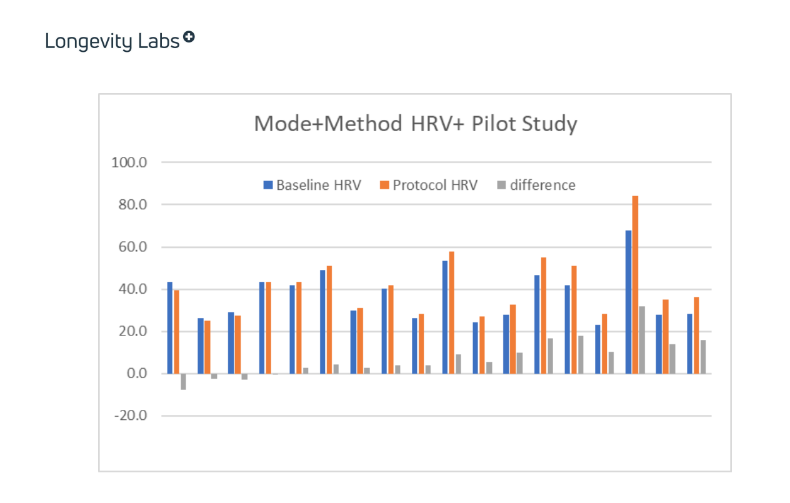 Takeaways 

The Heads Up platform is the perfect solution for data-driven supplement companies who want to validate their supplement's outcomes using near real-time tracking tools that quickly and easily quantify changes to users' health data from an individual to the cohort level. If you are looking for software and support validating your supplement or health solution, schedule a discovery call with our support team and we'll be happy to help you.
Are you looking to validate your health product?

Schedule a call with our Trials Specialist to find out how our program can work for you.