The healthcare industry is confronted with a major challenge of dealing with fragmented medical data, especially in integrative medicine where advanced diagnostic labs are utilized. To tackle this issue, Heads Up has introduced its Concierge Service feature, making it easier to import disconnected lab documentation (PDFs/CSV files), patient portal data, and any quantified medical data into a single user interface.
This service will automatically map data into a patient's lab chart at no additional cost, enabling providers to enjoy Heads Up's advanced reporting, data visualization, and analysis features.
Concierge Service Walkthrough
Concierge Service
We are excited to announce the launch of our new concierge service feature that helps solve one of the biggest challenges in healthcare: fragmented medical data. With this feature, you can easily get all of your data from disconnected documents and patient portals into one user interface.
When a patient loses their insurance or changes their doctor, the traditional healthcare system has difficulty accessing the required data from multiple EHRs and diagnostic lab companies, as these systems typically cannot communicate with each other.
The Concierge Feature of Heads Up will help solve this problem by allowing healthcare providers to collate all patient lab data from any source into Heads Up. Similarly, independent practitioners will be able to access PDF files or lab results from independent labs, as well as organize and store all data securely in compliance with HIPAA regulations.
Concierge Service which makes it easier for health professionals and their patients to connect all the fragmented medical data, like labs, into one user interface. This makes it easier for doctors to use the Heads Up analysis, reporting, and visualization features on top of the data.
Connected Health System
The main benefit of using a connected health system is that it allows practitioners and patients' to see all of their patients' medical history in one place, making it easier to compare results from different tests. The new concierge service that Heads Up has built makes it easier for practitioners to access and manage their data by allowing any medical lab pdf to be uploaded and the data will be mapped for the practice. No extra work is necessary.
Uploading Files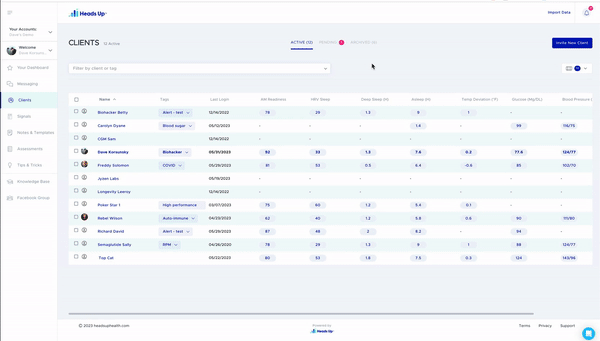 The process of uploading PDFs or CSV's to the Heads Up platform is simple. After upload Heads Up data team takes care of finding the values and mapping them to your patients portal.
Within a few business days, the data will be inside the patients charts and you can see how they fall into range. Even reference ranges can be customized and groupings of tests can be displayed easily for a speedy review!
Historical Data
Heads Up helps health professionals unlock patient historical data while giving an easy way to upload PDF's and CSVs from any lab that isn't already automatically integrated via API. By using the concierge feature, your practice will save time, reduce costs, and give you the data you need to make the best decisions for your patients in a safely encrypted and protected environment.
If you have a Health Professional account, try out Concierge services and enjoy all the time saving benefits Heads Up's concierge services provide.
Want to try it out?
Full Livestream Recording
If you have a Health Professional paid for account, try out Concierge services for free and enjoy all the time saving benefits Heads Up's concierge services provide.
Don't have a Heads Up professional account?