The ketogenic diet has gone mainstream, and with it, so have the number of apps available to efficiently track your progress. But finding the right keto tracker app can get complicated and confusing quickly. There are big differences between free tracking apps with basic functionality and premium apps offering a broader range of keto diet tracking plus other useful features that help you more easily monitor and manage your overall health, no matter what your goals.
So here are some useful tips to help determine if a free keto tracker app is right for you, or if you may want a little more 'spice' in your 'keto app sauce.'
The Freebie Options
MyFitnessPal
MyFitnessPal is a popular calorie counter web and mobile app for tracking fitness and food intake. This keto tracker app diary feature couples with the calorie counter to help track every calorie, nutrient and vitamin you consume. The macros feature helps you analyze eating patterns to determine where you may be out of balance so you can make necessary adjustments to stay on track with your goals.
The Pros

: MyFitnessPal is convenient to use with easy access to a huge database of foods and information, offering instant feedback and flexible diet plans. It also integrates with

other health dashboards

as well as a host of other activity, fitness and lifestyle apps as well as wearables (

see all integrations

). 

The Cons

: The food database has many listings that are not verified, which can make it hard to find the right food in their system. There is also more emphasis on calories versus macros, and for some, not having net carbs displayed without running a script can make it less keto-friendly than other keto tracker apps. The app also requires an internet connection to access the database in real-time. It may be best suited for those who are steadfast in their dedication to calorie counting as the best method to reach their goals. 

Cost:

Free; in-app purchases on Apple watch

Platforms

: Web app and mobile app on Apple & Android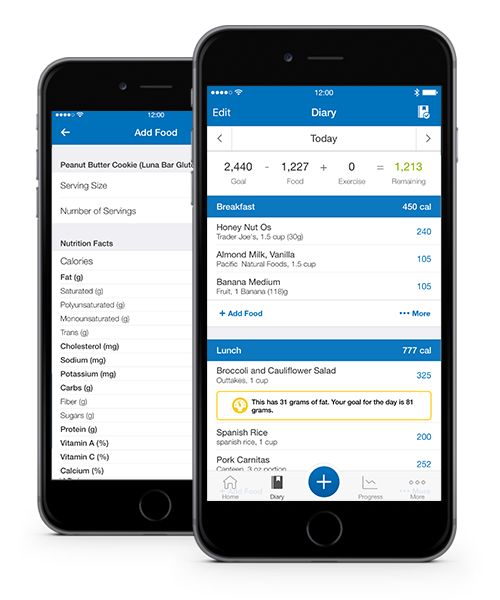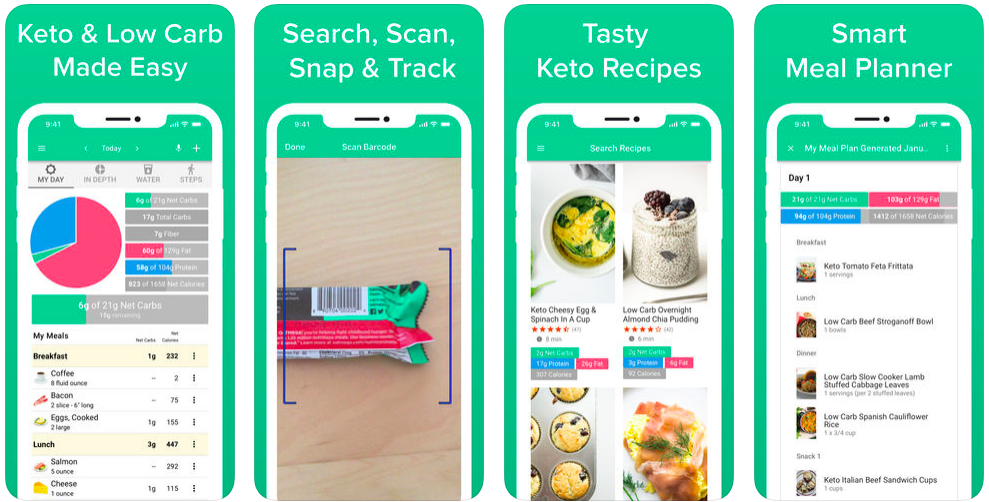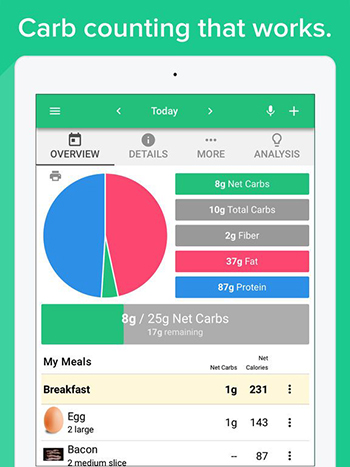 Carb Manager
The Carb Manager Low-Carb Diet Tracker is a great option to track your keto diet macros. You can log meals using photos, search, voice input or barcode scanners, making it flexible and user-friendly no matter what method(s) you prefer. The database of foods, although size is uncertain, seems large enough to accommodate most dieters, and you have access to meal planners, diet forums, recipes, eBooks and more. Total and net carbs are verified instantly and the user interface is simple.
The Pros

: As another free keto tracker app option, this one is full-featured and easy to use, and lets you enter your own carb limits and track water intake. The database of foods is plenty big, you have access to a plethora of relevant diet resources, and it's applicable for Keto, Atkins, Paleo and other diet plan preferences that espouse a similar low-carb lifestyle approach. You can also chart your body mass index (BMI), weight and progress against your personalized goals, access via the web or mobile device and use unlimited logging for taking food pics. 

The Cons

: Although free, you may reach a food limit on what you enter before being required to upgrade, and is sometimes challenging to search for and upload their own food items from a personalized meal plan. The user interface is also a bit lacking compared with some of the other nutrition apps covered here.

Cost:

Free with in-app purchases

Platforms

: Web app, mobile app on Apple and Android
Lifesum 
Lifesum is another food and fitness tracking app available on mobile devices only (no web app) that offers calorie tracking, recipes and nutrition tips. This keto tracker app offers some recipes along with social media integration and gamification that allows users to connect with friends to challenge, motivate and inspire each other. The app's food rating guide also makes it easy to quickly assess the foods with the best nutritional value versus those that are high in calories, saturated fats, sodium or sugar.
The Pros

: Track meals and physical activity through an easy user interface and select your health goals from three simple options, "be healthier," "lose weight," or "gain weight." It includes some recipes and a filter to find and track foods based on what's popular in your area.

The Cons

: The food database is much smaller than MyFitnessPal and some of the nutrient information is inaccurate. Significant features such as the full food database and the larger catalog of recipes also require a paid upgrade. 

Cost:

Free with in-app purchases for additional foods and recipes

Platforms

: Mobile app available on Apple and Android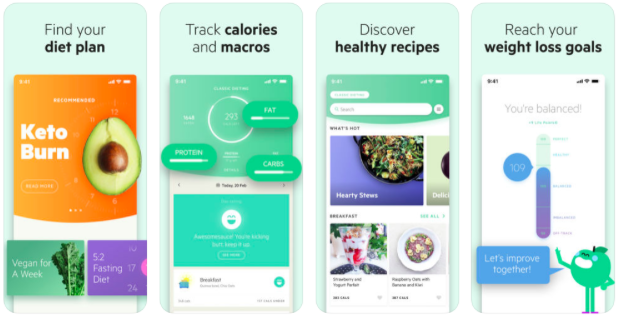 Try a Health & Keto Tracker App Free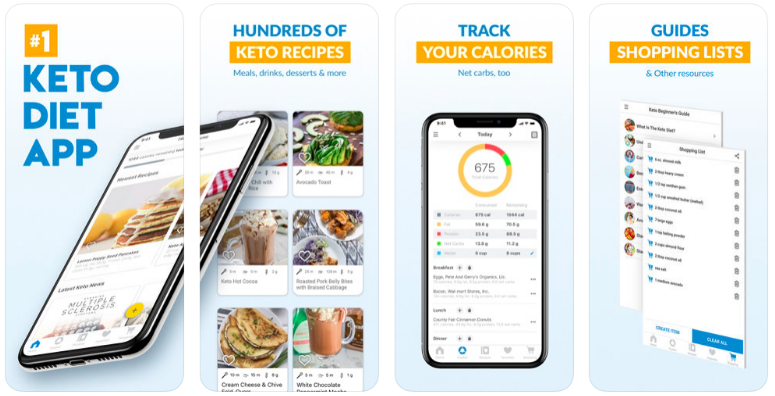 Total Keto Diet
The Total Keto Diet app offers a wide variety of healthy recipes for people on the keto diet plan, as well as a host of educational articles on the ketogenic lifestyle in general. You can select and save your favorite meals and recipes and from that, create a personalized shopping list. Users can share recipe ideas with other users. The keto tracker app also includes a macronutrient tracker, helping you log carb intake and overall diet macros.
The Pros

: This is an easy and convenient way to keep track of your keto plan, weight-loss progress and offers an easy spot for keto education and logging of shopping lists.

The Cons

: For users that may want to incorporate tracking other health metrics, through integration with other devices or apps, this may simply be too basic of an option to do everything on your wishlist. It's also difficult to adjust the amount of specific food entered (i.e. entering ½ cup of cooked cauliflower).

Cost:

Free 

Platforms

: Mobile app available on Apple and Android
When FREE Falls a Little Too Short
Keto Diet App
When you're ready to step into the paid keto app world for more robust features, The Keto Diet app offers more to help users adopt a healthier lifestyle rather than just losing weight at any cost. For people interested in using the ketogenic plan to follow a low-carb eating plan with a high degree of accuracy, this is a great choice. Its intuitive diet planner lets you create a custom profile using options from hundreds of meals and snacks. Beyond calorie counting and carb monitoring, this keto tracker app helps you more easily track your ketogenic diet macros, and you can set your carb intake, pull from hundreds of free recipe ideas and use its built-in keto calculator. The virtual shopping basket also helps simplify grocery shopping.
The Pros

: This app is big on both accuracy and data privacy, so your personal info is secure, and all of the tracker's nutritional details are from verified sources. Its simple interface is user-friendly, and the diet guide is well-suited for beginners and advanced keto dieters, with thousands of delicious recipes that are formulated for keto via a whole-foods lens. 

The Cons

: Although the app is user-friendly, it is sometimes considered time-consuming to use. Measuring options for some items are only in ounces or grams, not cups, tablespoons or teaspoons, so volume accuracy can be a challenge on-the-fly.

Price

: $8.99 per month with in-app purchases

Platforms

: Apple and Android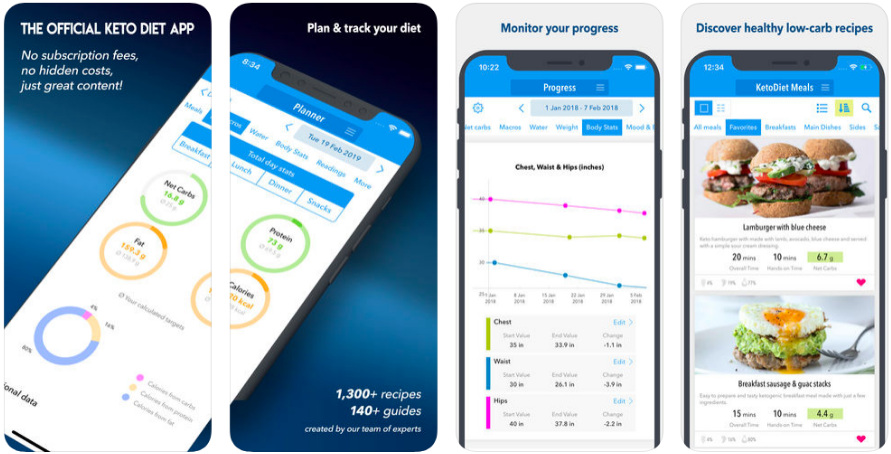 Heads Up (formerly Heads Up Health)
Heads Up (formerly called Heads Up Health) takes ketogenic diet tracking to a different level and is a more robust personal health app designed to give users an easy way to see all of their important health metrics in one place, whether the goal is weight loss and changing body tape measurements, chronic disease management, athletic performance, biohacking or general health and well-being. 
This keto tracker app integrates with a growing number of popular fitness apps, diet trackers and wearables, such as MyFitnessPal, MyMacros+, Fitbit, Apple Health, Cronometer, BioStrap, Oura Ring and KetoMojo, with more being added. In fact, whatever keto tracker app you decide to use, Heads Up is a great complement to seeing the big picture of your health.
The Pros

: Heads Up lets users track a much broader range of health and medical data to monitor total lifestyles, while still tracking specific diet plans such as keto. A wide range of popular integrated apps and wearables automatically sync, and the dashboard can be customized to feature the most important stats you need to monitor most often. The Care Team Access feature allows users to share health data with loved ones and medical practitioners if desired, and remove access at any time. Data privacy practices are in place to make sure all your personal and medical information is secure.

The Cons

: For users that only want to only track a specific diet or food plans such as Keto, Paleo or Low-Carb, the app may have more features than needed.

Price

: Free 30-day trial / $8.99 per month 

Platforms

: Web app, mobile for Apple and Android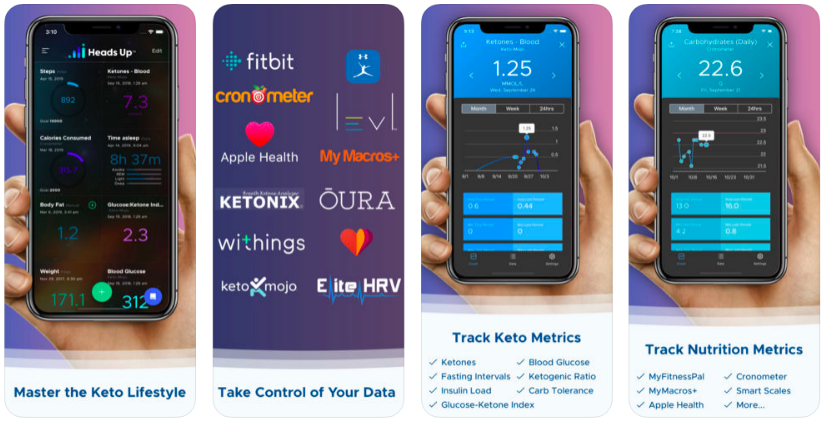 Try a Health & Keto Diet Tracker Free
https://app.headsuphealth.com/users/sign_up
The Bottom Line
The list of keto diet tracking apps is wide and long, and clearly, there is a lot of overlap between options, especially when it comes to the free ones. The pack begins to separate when you get into the more robust paid options that offer a deeper, feature-rich experience. So the best way to choose…?  Start with the end in mind. If it's a diet plan and you're on a budget, free is the way to go. But if you want to monitor more health stats over the short and long term, then upgrading to a paid solution will be way worth the investment in monitoring your broader health metrics.