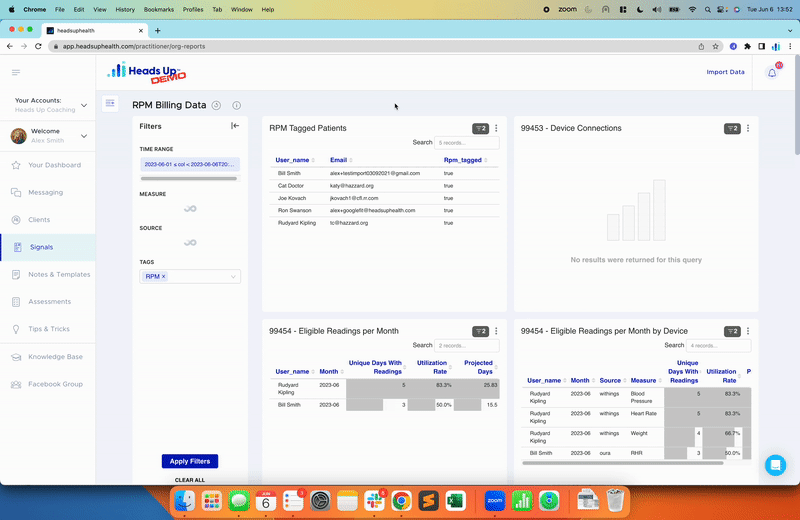 Updated: June 2023
We're excited to announce the latest release of our Remote Patient Monitoring (RPM) dashboard, which includes significant performance and frontend improvements. This updated version is designed to further enhance your user experience and streamline your workflows.
Below are the key enhancements included in this update:
Predicted Month-End Days for CPT 99454 Claims: This feature will help you better anticipate the month-end days for CPT 99454 claims, aiding in effective planning and management of your claims.
Predicted Month-End Minutes for CPT 99457/99458 Claims: To enhance your efficiency, we have introduced a feature predicting the month-end minutes for CPT 99457/99458 claims.
Manual Time Reporting with More Details: To provide greater clarity and transparency, we have added a manual time reporting feature with more detailed information.
Customizable Tag Preferences: This new feature allows you to categorize your RPM patients into multiple groups using customizable tags, offering more flexibility in patient management.
Enhanced Accuracy: We have improved the system to avoid inadvertent time expansion, thus ensuring precise reporting of RPM billing information.
Detailed RPM Report: A comprehensive report for RPM minutes has been added, providing in-depth insights and thorough data analysis.
Export to CSV Functionality: We have introduced an 'export to CSV' function to ease data review and manipulation. This feature enables you to download the data into a CSV file, which can be managed in applications like Excel or Numbers.
The RPM dashboard now includes a redesigned user interface for easier navigation and the ability to monitor your patients' vital signs in real-time. Data can be accessed quickly, allowing you to see how treatments are progressing and make any necessary adjustments. You can also view detailed patient histories and track trends over time.
We hope this update makes it easier for you to provide the best care possible to your patients. If you have any feedback or questions, please don't hesitate to reach out.
We look forward to continue bringing you new features and improving your user experience!
As always, we remain committed to protecting the security and privacy of your data. All patient information is stored securely and protected with the highest levels of encryption. We also regularly review our systems for threats and vulnerabilities to ensure that your data remains safe.
We're here to help you provide the best care possible for your patients, so please don't hesitate to reach out if you have any questions or need assistance. Thank you for being part of the Heads Up community!