Powerful Life-Saving Prevention Technology
Introduction
Ciba Health is a tech-forward virtual chronic disease reversal platform successfully leveraging Remote Patient Monitoring (RPM) for their Type 2 Diabetes Reversal program.
Ciba's RPM program leverages cutting-edge digital health devices including the Freestyle Libre Continuous Glucose Monitor (CGM), Oura ring, Withings scale, and Withings blood pressure cuff for a complete connected care solution.
The Ciba RPM program leverages a multidisciplinary team of physicians, dietitians, and health coaches for patient engagement, goal setting, lifestyle modification, and running the day-to-day operations of the RPM program.
The RPM program has created new revenue opportunities for Ciba Health inside the payer system, delivered quantified improvements in patient outcomes, and has positioned Ciba Health as a category-leading integrative practice with sophisticated RPM capabilities.
Ciba has selected Heads Up as the software platform for their RPM program. The Heads Up dashboard integrates seamlessly into the Ciba Health EHR system to facilitate data aggregation, analysis, alerting, reporting, RPM billing, and much more.
About Ciba Health
Ciba Health was founded in late 2019 by Dr. Innocent Clement, a trained physician, and former CEO and Co-Founder of Kaia Health Inc., a digital therapeutic company. The formation of Ciba Health was a response to the pitfalls of the conventional medical model, and an understanding that holistic, patient-centric care was essential for patient health.
Ciba Health is powered by the mission to provide better healthcare by researching the unique biochemistry of every patient, offering tools to practice better self-care, preventing diseases, and encouraging people to live their life to their fullest. Personalize, prevent, and educate—that's the Ciba Health motto for creating healthcare that truly cares.
Ciba offers programs in Advanced Primary Care, Type 2 Diabetes Reversal and Depression & Anxiety Breakthrough and Digestive Health
Remote Patient Monitoring Overview
Remote Patient Monitoring (RPM) is a system in which digital technologies are used to monitor and capture physiological data from patients at home. The data is monitored and reviewed by healthcare providers for personalized patient care.
Clinics and providers that use RPM can bill and submit claims for RPM services to healthcare payer systems through the use of CPT codes.
These codes assist in healthcare documentation and can be used for processing claims and billing, reporting medical procedures and services, and evaluating the utilization of healthcare services.
The primary CPT codes used for Remote Patient Monitoring include the following:
CPT Code 99453: the initial patient education on the medical device and training on the proper use
CPT Code 99454: the monthly remote monitoring of physiological parameters by wearable devices, includes provision and programming of device
CPT Code 99457: monthly billing for care management and coordination, requiring 20 minutes of interactive virtual care
CPT Code 99458: billing for additional time spent with the patient beyond the initial 20 minutes, billed in 20-minute increments
Business Challenges
Heads Up worked with Ciba Health to create a Remote Patient Monitoring platform to address their unique challenges:
Device data fragmentation

The Ciba RPM program leverages best-in-class devices (Libre, Oura, and Withings). Ciba Health needed a solution to seamlessly integrate data from multiple devices onto centralized dashboards for both patients and providers.

Diagnostic lab testing

In addition to integrating device data, Ciba Health needed an RPM platform that could also track lab tests including lipid panels, metabolic markers (Hba1c), functional diagnostic testing (Great Plains, Dutch, etc.), and much more.

EHR integration & white-label ready

Ciba Health needed an RPM solution that could integrate directly with their EHR system to simplify the user experience for both patients and providers. As part of the integrated solution, Ciba wanted to use their own branding on the patient-facing dashboard.

Advanced analytics

Ciba Health needed a platform with the analytics capabilities for their data science team to measure outcomes across their entire Type 2 Diabetes Reversal program.

Patient engagement

Ciba Health leverages FMCA health coaches for patient engagement. They needed an RPM platform that could integrate health coaching with biometric data from the devices as part of their RPM patient engagement strategy.

Lifestyle medicine

Ciba Health needed an RPM solution that would enable monitoring lifestyle factors including diet, sleep, stress, and exercise. Visibility into these lifestyle factors is a key part of Ciba's holistic approach to Type 2 Diabetes Management.

Increase revenue

Ciba Health was seeking to explore revenue opportunities that rely on tracking RPM billing eligibility for each CPT code and export data in a customized format for their billing team.
Technology Solution
Heads Up was selected as the technology vendor to meet both Ciba Health's business and practice needs for their RPM solution.
Customized Dashboards
Heads Up created a dashboard to integrate all of the devices and data required for the RPM program. Libre, Withings, and Oura all seamlessly integrate into a single view for patients and providers.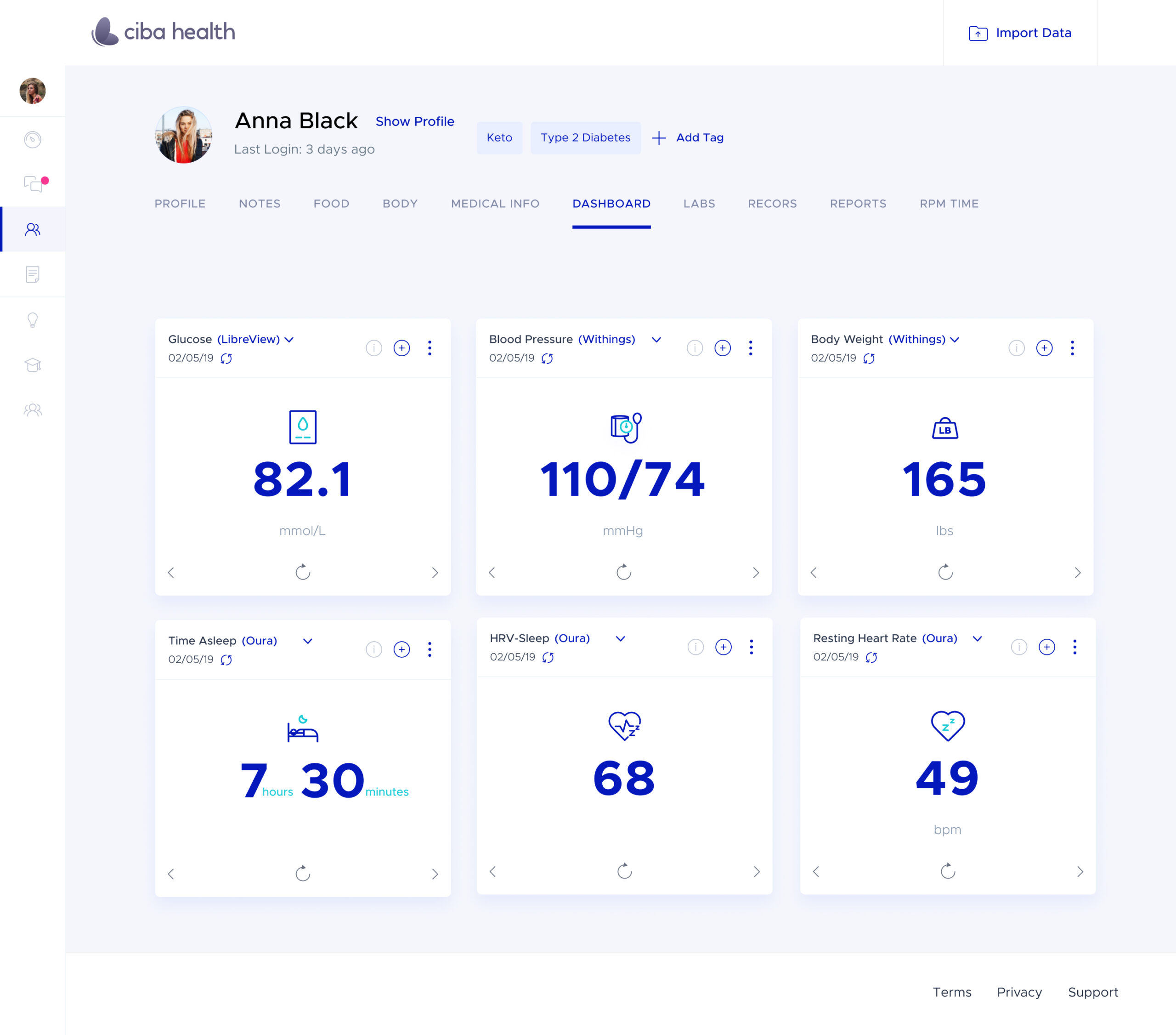 Integrated Lab Testing
Ciba Health uses a combination of conventional lab testing (Hba1c, lipid panels etc.) and functional diagnostic testing. The RPM portal was also configured with the ability to track diagnostic lab testing alongside the device data.
EHR Integration
The dashboard was directly embedded into the Ciba Health EHR system and uses single-sign-on (SSO) for a seamless user experience.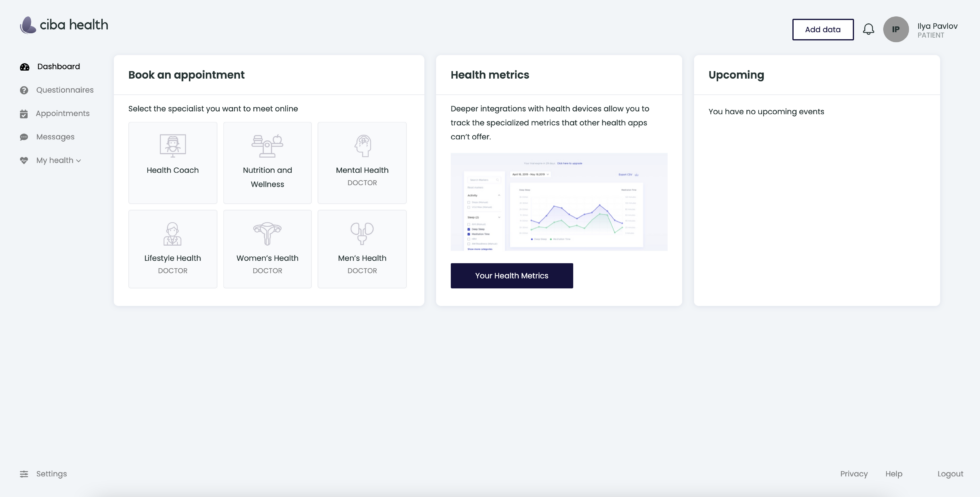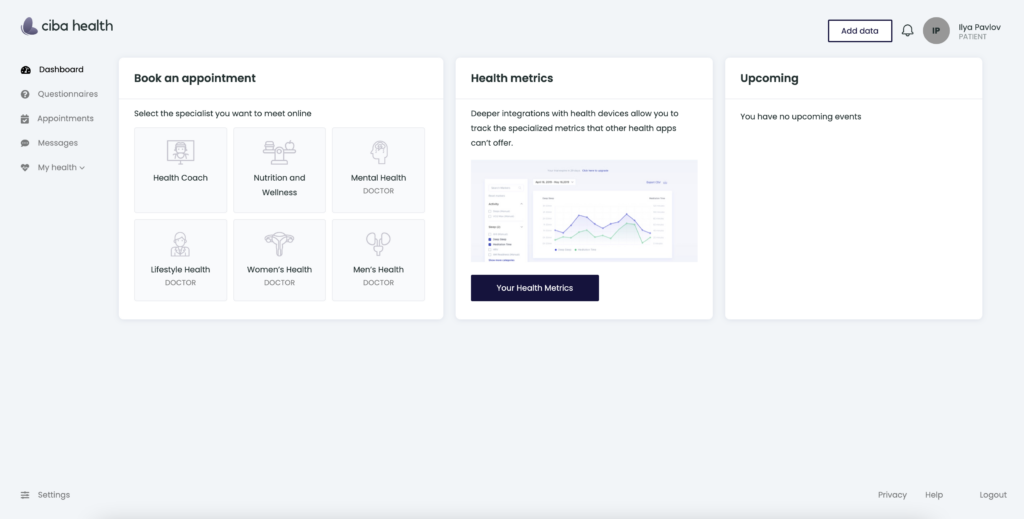 Advanced Analytics
Customized data exports are delivered each month to the Ciba data science team. Outcomes can be analyzed across the entire patient base. As the data set grows, Ciba can start to apply machine learning and AI to learn more about how their programs are performing.
Customized Billing Reports
Customized reports are delivered to Ciba throughout each calendar month. These reports help determine where there are clinically relevant RPM related billing opportunities each month.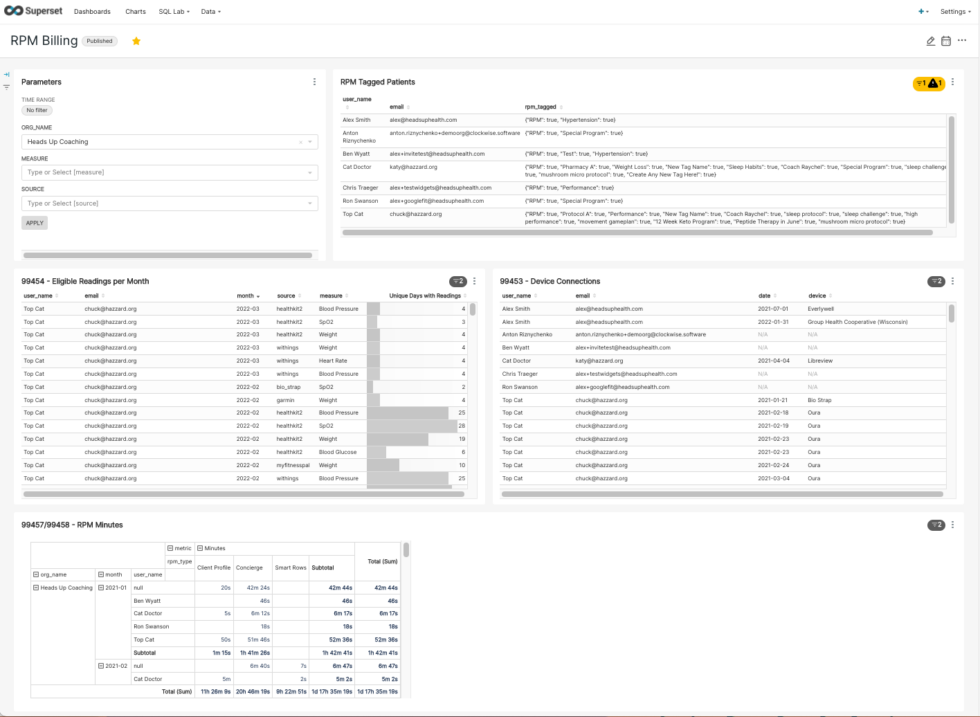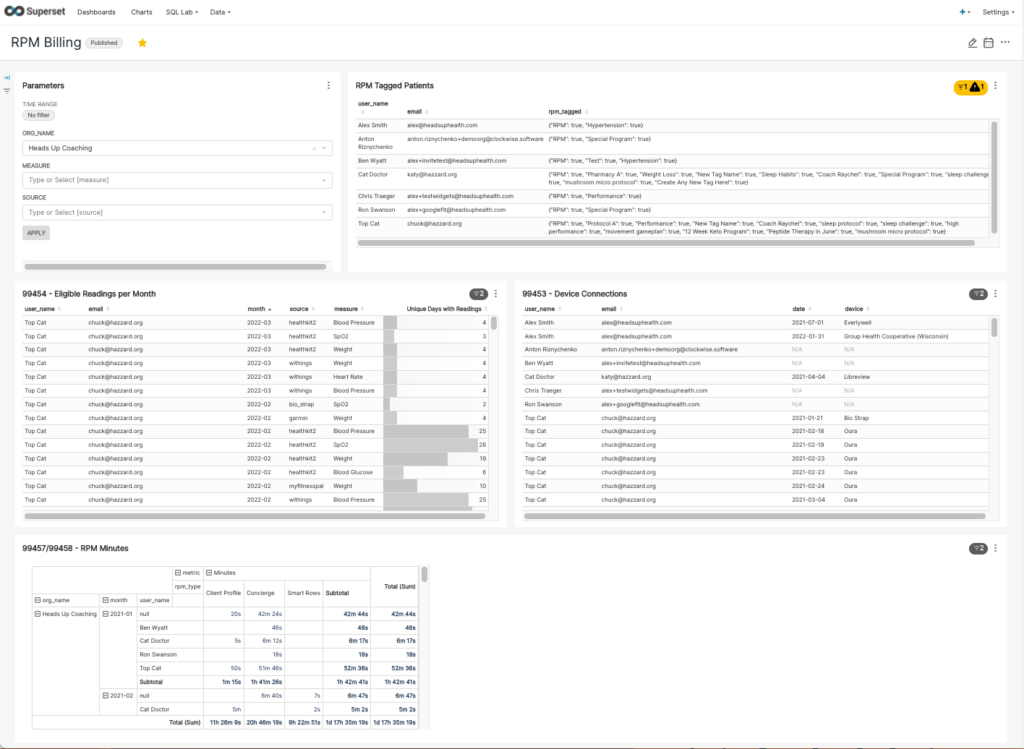 Train Health Coaches
Consistent with their high standards as a virtual functional medicine practice, Ciba Health hired health coaches certified by the Functional Medicine Coaching Academy (FMCA). 
The FCMA health coaching program is considered a gold standard in functional medicine, and is the only program designed and delivered in collaboration with the Institute for Functional Medicine (IFM).
These coaches were then trained through the Heads Up University RPM Certification Course for health coaches. This program consists of seven video modules and additional resources that cover how to get started with RPM, coding and billing, medical protocols, and legal considerations for RPM.
As a result of this training, the Ciba Health coaches are better equipped to manage the day-to-day of the RPM programs and can use the incoming data as opportunities to check-in with patients.
Business Outcomes
Using the remote monitoring solution created by Heads Up, Ciba Health was able to achieve the following outcomes.
Increased Revenue
Ciba Health has enrolled in the payer system and is now generating claims revenue for their RPM services. With a proven RPM solution in place, Ciba Health is preparing to scale their RPM revenue as they bring on new clients.


Improved Outcomes
Using the data generated from their RPM program, Ciba Health is able to quantify outcomes both at the individual level and at the cohort level to validate their program's efficacy. 
These outcomes are published on their website and used in other outbound communications.
Testimonials From Patients About Ciba's Type 2 Diabetes Reversal Program
Increased engagement
Instead of waiting several months between doctor visits and conventional lab test results, Ciba health coaches and providers can use patient-generated data for real-time biofeedback.
Data from the devices creates new opportunities for Ciba Health coaches to engage patients and guide them toward health lifestyle modification.
Additionally, patients learn to use the data from the devices themselves to make healthy corrections to diet and lifestyle.
Summary and CTA
Ciba Health has developed an industry-leading Remote Patient Monitoring program for Type 2 Diabetes built on the Heads Up connected care platform.
The program integrates the latest digital health devices from Oura, Abbott (Freestyle Libre) and Withings combined with diagnostic lab testing.
FMCA-certified health coaches are trained to manage the RPM program and integrate biometric data into patient coaching.
Ciba Health is leveraging objective clinical and lifestyle data to study outcomes as their programs scales.
Lastly, new revenue streams are now available to Ciba as Remote Patient Monitoring continues to expand.
Interested in exploring a custom-built program for your practice?