Podcast: Play in new window | Download
Subscribe: Apple Podcasts | Google Podcasts | RSS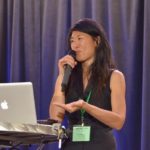 We are honored to kick off our inaugural show with the lovely and uber-talented Dr. Grace Liu. Also known as "The Gut Goddess," and sometimes, "The Poo Princess," Dr. Grace is a Functional Medicine Practioner, Gut Health Educator, and the founder of The Gut Institute.
She uses Heads Up Health with her clients, many who are top-tier athletes, busy executives, and multi-tasking moms. We're lucky to have her join us to talk about the gut microbiome, which is one of the most important, yet often overlooked, elements of our health.

Dr. Grace's training includes four years in plant biology, bachelor in nutritional science and food science, a doctorate in pharmacy, and Crossfit Nutrition Certified by Robb Wolf (and Nicki Violetti). She's also very data-driven in her approach to working with her clients.
Check out her website and listen to Dr. Grace Liu's podcast here.
This podcast is brought to you by Heads Up Health, a web app designed to help you centrally track all of your vital health data. Instantly synchronize your medical records, connect your favorite health devices and apps and use your data to optimize your health!
Click on the button below to start your free 30-day trial. Or, read on for more information about our latest podcast episode!
[maxbutton id="5″ url="https://headsuphealth.com/" ]
---
In this episode, you'll learn:
Gut microbiome 101: What are the functions of the gut and why it's important
Gut damage: From antibiotics to environment, a look at what causes damage to our gut microbiome
Tools for assessing gut health

Bristol Stool Chart – and best scores
Conventional lab testing: White blood cell (WBC), Iron, Ferritin, CBC, Vitamin D, Liver (ALT, AST)
Functional testing: The Organic Acids Test

Best practices for supporting and maintaining a healthy microbiome
Why Dr. Grace loves using Heads Up Health with her clients to track metrics
How Dave added, at Dr. Grace's request, the Bristol Stool Test as a metric into Heads Up Health for clients to track
---
Dr. Grace's biomarkers for assessing gut health
Biomarker
Dr. Grace's

Reference Range

Notes
Iron
60-120
Ferritin
70-120
WBC
5-7
hs-CRP
< 1.0
TSH
0.5-1.5
Reverse T3
<15
Goes up w/stress
Free T3
Upper 1/3rd of lab ranges
Unless history of thyroid cancer
Free T4
  Upper 1/3rd of lab ranges
AST
        Male
<15
            Female
<12
ALT
     Male
<15
        Female
<12
Hemoglobin a1c
<= 4.9%
Unless anemia or iron overload present because these shorten lifespan of the RBC and lab underestimates glycation; conversely in super healthy individuals the RBCs have longer life spans and overestimates glycation. Fructosamine is far more reliable
and sensitive
Fructosamine
<=200
Watch on YouTube
Check out the interview on YouTube where you can watch Dave and Dr. Grace dive deeper into the data:
References
Eighty percent of French sport winners in Olympic, World and Europeans competitions have mutations in the hemochromatosis HFE gene
AHS 2017: The Dirt on Cancer (featuring Dr. Grace Liu and Dr. Nasha Winters)
Dr. Grace's Probiotic mentioned
The Human Longevity Project (Film featuring experts, including Dr. Grace Liu)
Our Partners:
Learn more about LEVL, a clinical-grade ketone breath meter, which measures your level of fat-burning and ketosis through a simple breath. Find out more at HeadsUpHealth.com/LEVL.
You can learn more about the Oura ring, a state of the art ring that can track sleep cycle analysis, activity, and recovery at HeadsUpHealth.com/Oura.
Learn more about Keto-Mojo, a highly accurate and affordable device for testing blood sugar and blood ketones. Check it out at HeadsUpHealth.com/Ketomojo.
All of these amazing products are integrated with Heads Up Health.
They all allow you to quantify your health in novel and powerful ways.
Thank you to our partners!
About Heads Up Health
Heads Up Health is a website designed to empower individuals who want to take a self-directed approach to managing their health. Instantly centralize your medical records, connect your favorite devices and apps (e.g., Oura, MyFitnessPal, Keto-Mojo, FitBit, Apple Health, MyMacros+, Withings and many more) and use your data to optimize your health.
Click on the button below to start your free 30-day trial now!
[maxbutton id="4″ url="https://headsuphealth.com/" ]