Developed by Megan Ramos and Dr. Jason Fung from years of clinical experience with intermittent fasting and time restricted eating, The Fasting Method (TFM) provides the education, guidance, and support necessary for successful weight loss and type 2 diabetes remission. With clients all over the world, The Fasting Method needed a comprehensive solution to monitor and support their customers.
Heads Up (HU), the industry-leading health tracking platform, worked closely with TFM to create a combined technology solution to meet their needs. The resulting single-sign-on interface gives clients and coaches secure access to TFM's custom lifestyle dashboard with community and education resources as well as health metrics and lab results tracking. 
HU integrates seamlessly with TFM's WordPress site to deliver a data-driven approach to guide users through structured intermittent fasting.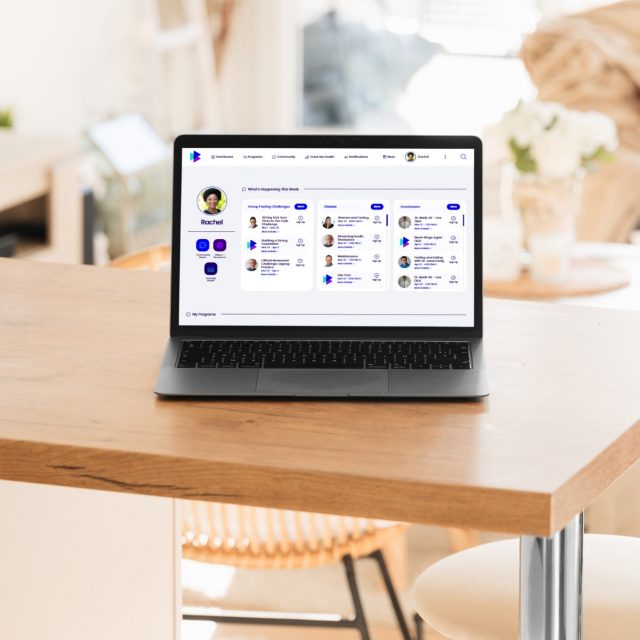 Fasting for Health
Megan Ramos and Dr. Jason Fung are the co-founders of The Fasting Method which provides solutions for weight loss, type 2 diabetes control, and metabolic syndrome. 
Ramos is a Canadian clinical researcher and expert on therapeutic fasting and low carbohydrate diets. Megan is one of the directors of the nonprofit organization Public Health Collaboration Canada (PHC Canada), an international group dedicated to promoting evidence-based nutritional information. She is also on the editorial board of the Journal of Insulin Resistance.
Dr. Fung, MD, is a Toronto-based nephrologist and a world leading expert in intermittent fasting and low-carb diets. He has written the bestselling health books: The Obesity Code, The Complete Guide to Fasting, The Diabetes Code, and The Longevity Solution. Dr. Fung currently practices in Toronto, Canada and also works with Team Diet Doctor. He is the scientific editor of the Journal of Insulin Resistance, and the managing director of PHC Canada.
About The Fasting Method
The Fasting Method focuses on client empowerment by providing education, support, and access to an engaged community of TFM members. Centered around creating sustainable life changes, participants enroll in TFM's self-guided program for access to a suite of resources to support their health goals. TFM also provides custom coaching for customers seeking tailored solutions to their fasting goals.
TFM's three-pillar system of education, community, and health tracking gives clients the tools they need to succeed with fasting and time-restricted eating to tackle health challenges and meet their goals. Clients with a range of experience have access to appropriate educational courses on eating strategies and support from a community who shares their goals. 
Business Challenge
With customers all over the world, TFM needed a product to remotely track client progress, compile health metrics, and measure the effectiveness of their protocols over time. 
TFM was seeking a comprehensive solution for data aggregation that could not only track fasting intervals but also measure other critical health parameters such as sleep, heart rate variability (HRV), weight, DEXA scans, and lab results. They needed a custom portal to integrate directly with their existing WordPress client portal for a seamless single-sign-on experience.
Promoting client engagement is essential for businesses in the dynamic health and wellness sector. The team at TFM was seeking an accessible solution for their customers to self-monitor and track the positive impacts of the program on their wellbeing. Giving clients a platform to see real data and numbers for themselves leads to better outcomes and long-term customer retention.
Technology Solution
The goal for Heads Up, the personal health platform for tracking and analyzing health data, was to develop a custom solution to meet TFM's diverse needs. In creating single-sign-on access to the HU platform, clients can now effortlessly monitor their health metrics, in addition to connecting with essential education and community resources, from within the TFM website.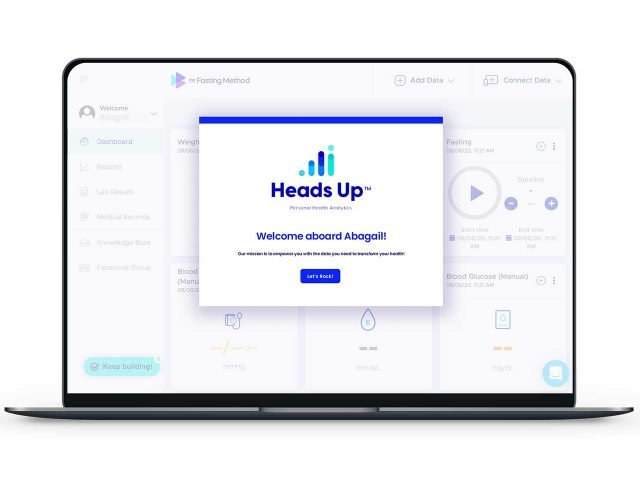 Custom Lifestyle Dashboard
Heads Up created the custom dashboard to be an organic component of the TFM member portal. Featuring a single sign-on experience, the HU integration is programmed with default tiles for tracking key fasting metrics and lab results, while the frontend interface gives clients a seamless user experience on their journey to health. 
Custom Single Sign-on
A cornerstone feature of HU's technology solution is the custom single sign-on (SSO). Heads Up integrates with TFM's WordPress website and client portal via SSO to create a seamlessly fluid, on-brand user experience. 
Heads Up has the ability to integrate with any patient portal or existing membership platform. With a custom SSO, HU can open as an iframe within the existing webpage or in a separate tab from the client portal. TFM chose to have HU open in an adjacent tab from the main dashboard, allowing users to navigate multiple features of their website simultaneously.
Like many clinics in the health and wellness space, TFM has an extensive database of electronic health records. With SSO, clients are automatically connected to their HU dashboard when logging into their TFM account. This secure and streamlined approach eliminates the need for clients to sign onto multiple apps and programs to achieve their health goals. 
TFM Custom Dashboard
The Heads Up dashboard, when accessed by TFM clients, is fully branded with TFM's logos and color palettes, as well as being pre-programmed with the proper tiles for tracking fasting metrics alongside other lifestyle data (weight, blood sugar, nutrition, sleep etc.) and lab data (cholesterol levels, hemoglobin a1c etc). 
The TFM program leads to substantial improvements in body composition and the new TFM dashboard lets clients see these changes in relation to other lifestyle metrics. 
The goals The Fasting Method protocols are to regulate the insulin response, reduce medication dependency, and improve overall wellness through intermittent fasting. The Heads Up integration with TFM gives clients an easy way to track their most essential metrics of fasting.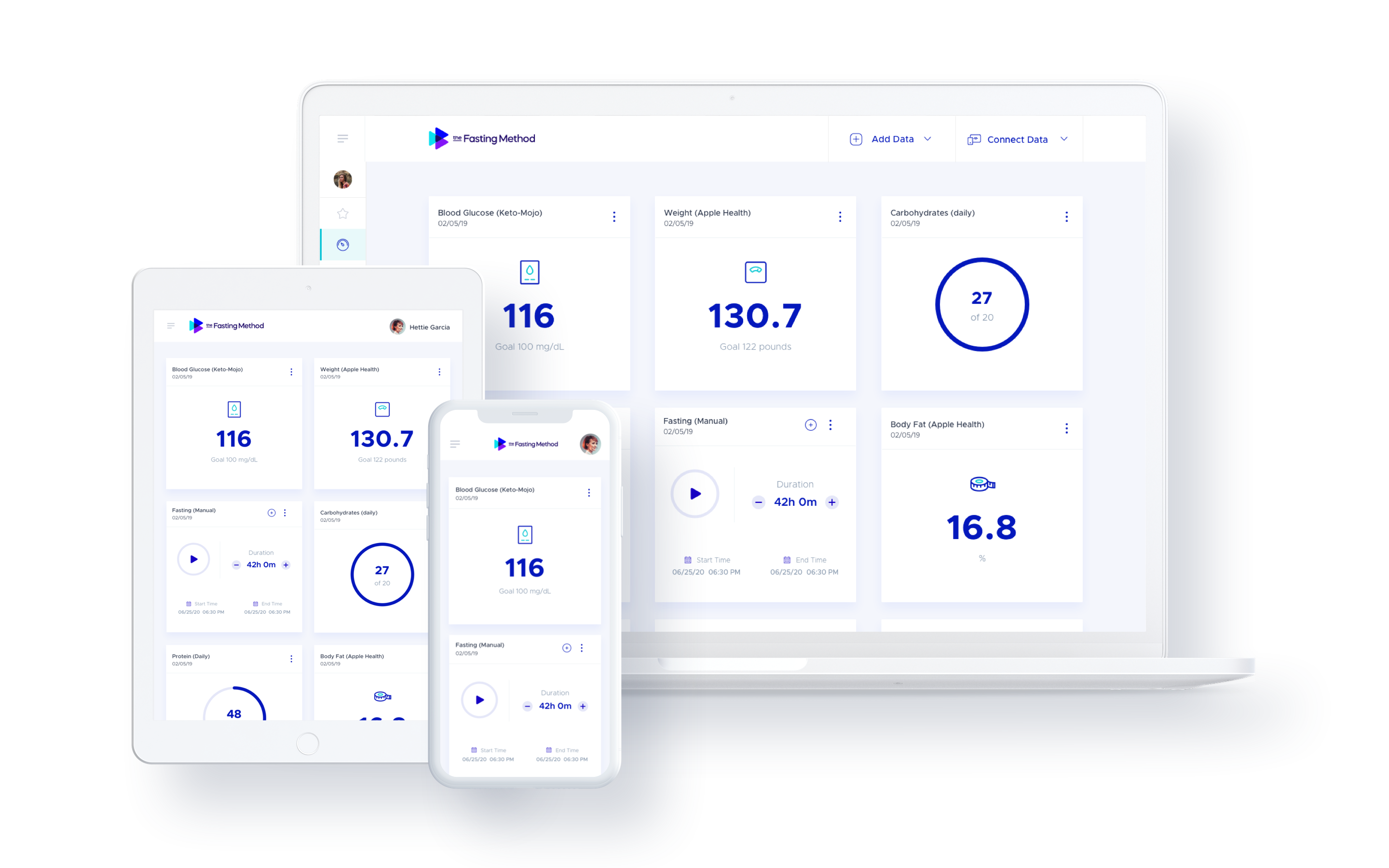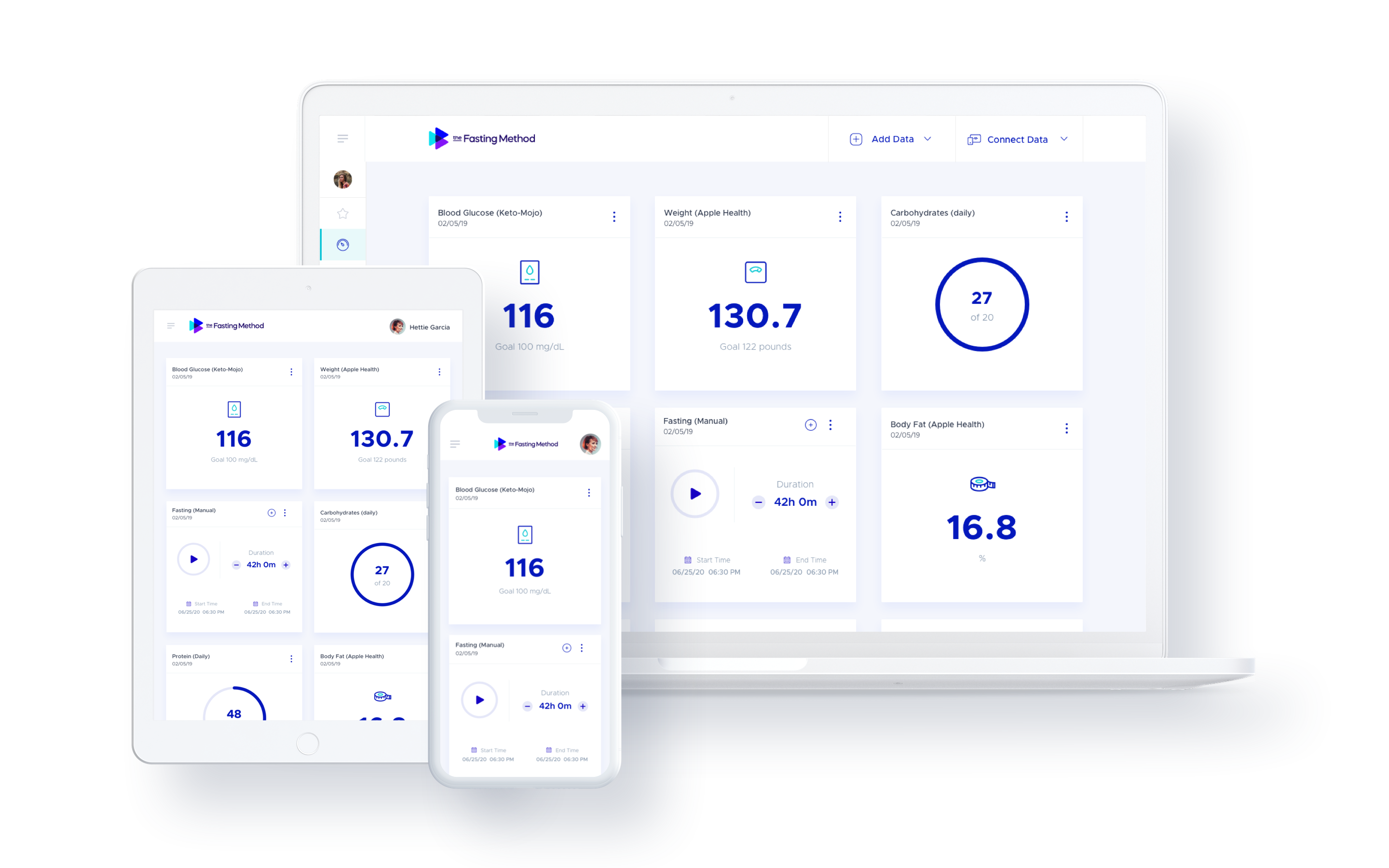 Custom Dashboard Metrics
TFM clients see the following metrics on their custom dashboard:
Fasting: Tracking fasting intervals gives insight into when the body is using stored sources of energy to fuel itself. Whether following an intermittent or extended fast, you are lowering blood sugar and body fat by using these stored sources of energy. The timer helps motivate users so they can see exactly how long they've been fasting and to learn how their other vital signs (sleep, blood glucose, ketones etc.) are changing.
Weight: Fasting has recently been rediscovered as a highly effective weight loss method, in addition to its many other healthy properties. Though weight may fluctuate throughout the fasting journey, measuring weight change over time is one baseline metrics of a healthy lifestyle.
Body Fat: Reducing overall body fat is key in improving fitness and avoiding health problems. Tracking changes in body fat is a tool to assess body composition and measure lean mass gains.
Blood Pressure: 

TFM's method of intermittent fasting can lead to reduced blood pressure by reducing insulin and improving weight loss. Tracking blood is a metric of elasticity of the circulatory system, a key health indicator. 

Ketones: 

As blood glucose and insulin levels begin to drop during fasting, the body starts to burn fat and produce ketones. Measuring breath ketones indicates

periods of nutritional ketosis versus glycolysis.The dashboard can sync ketone readings from Keto-Mojo, Ketonix and Biosense or can be entered manually.

Blood Glucose: Glucose and fat are the body's main sources of energy. If glucose is not available, then the body will adjust by using fat, without any detrimental health effects. Tracking glucose gives insight into the metabolic stage that the body is in during fasting.
Sleep: Timing meals affects our circadian rhythms that exert a powerful influence over our sleep and wellbeing. Monitoring sleep and waking hours is helpful in timing intermittent fasting windows and ensuring proper rest. TFM clients can sync sleep data from Oura, Garmin, FitBit, Biostrap, Apple Watch and other industry-leading wearables.
In addition to the above metrics, TFM clients have access to the full suite of Heads Up tracking modules and integrations. Tracking other metrics such as exercise, macros, or HRV can serve as additional markers of a healthy lifestyle.
Custom Lab Results
With a focus on data-driven results, the custom portal also allows clients to track their lab results as they embark on the journey with TFM. 
Traditional lab tests such as lipid panels (cholesterol, HDL, LDL, etc.), metabolic markers (fasting insulin, Hba1c, etc.), and thyroid markers can all be tracked by clients. Clients can see for themselves how TFM is improving their markers of health and disease. Similarly, TFM experts can review these results with clients to help optimize and personalize the treatment protocol for each client.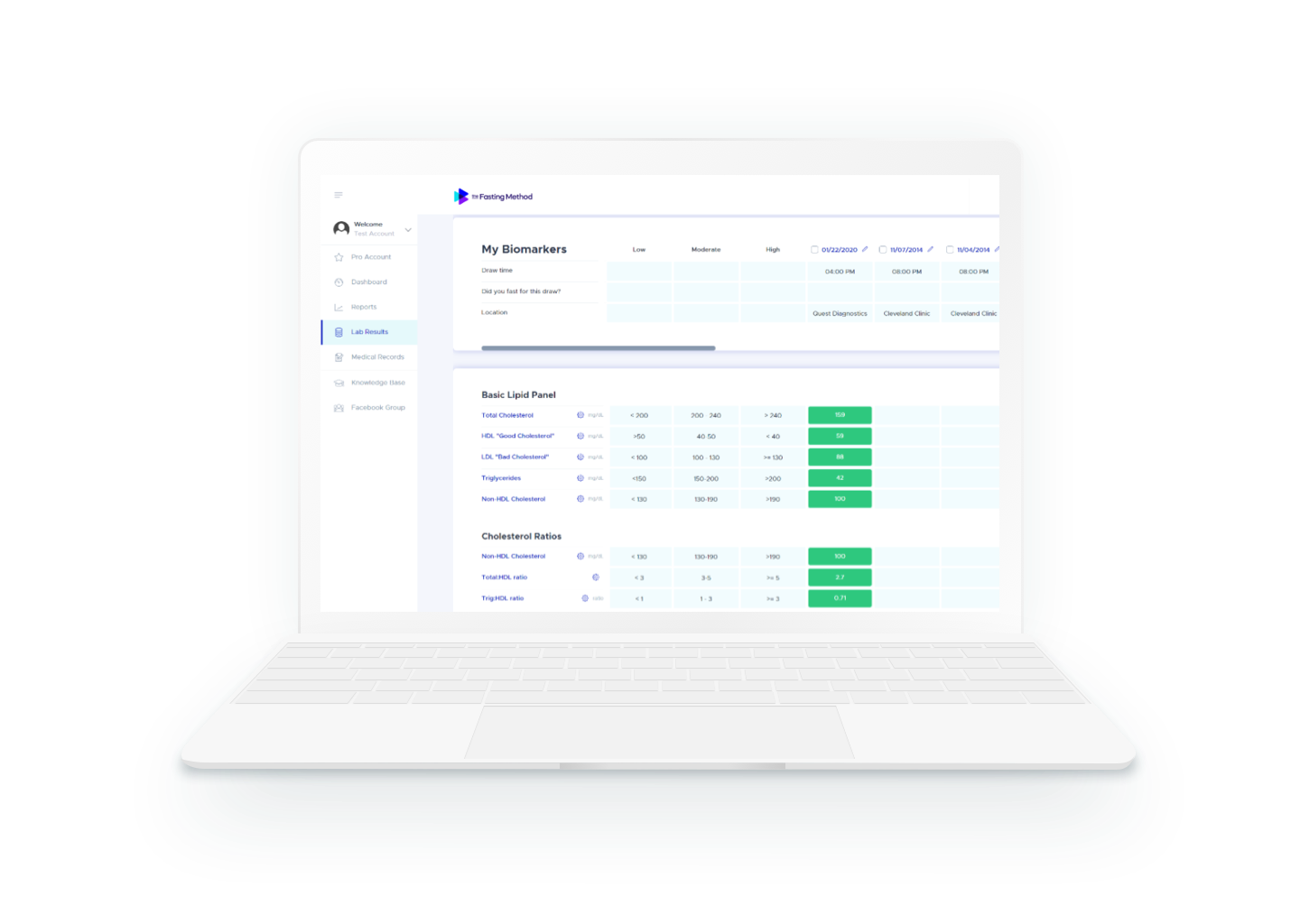 Conclusions
Clear access to health data gives TFM clients the tools they need to set actionable goals and track improvement. The HU team designed a seamless user experience on both the frontend for clients and backend for practitioners.
With an eye on customer retention, HU's custom dashboard is designed with a clean look and intuitive feel to facilitate customer motivation and satisfaction. Whether accessing the dashboard on desktop, mobile, or tablet, clients and practitioners have an elegant and practical experience from sign in to sign out.
Interested in a custom data portal for your practice?
Schedule a free strategy session with a specialist to learn how to implement Heads Up Health in your organization. Plus, get a free demo with best practices on how to maximize your practice revenues using Heads Up.
Get started by clicking the button below..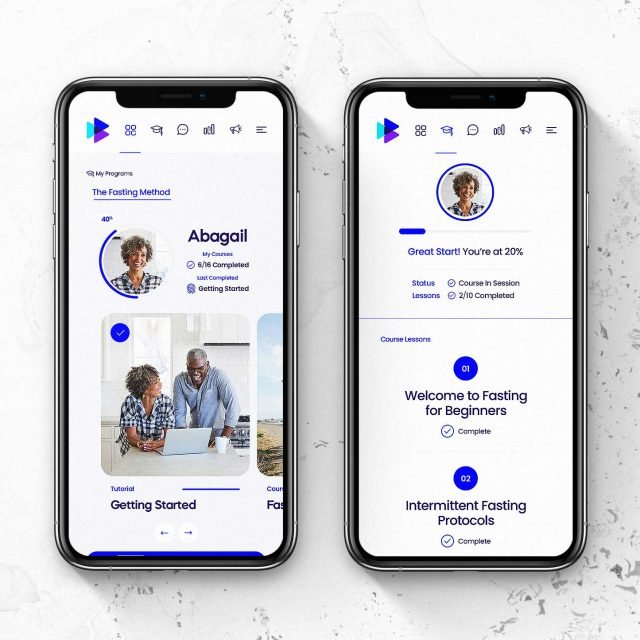 Update From Megan Ramos And The Fasting Method.
Ready to get started with Heads Up Health in your practice?