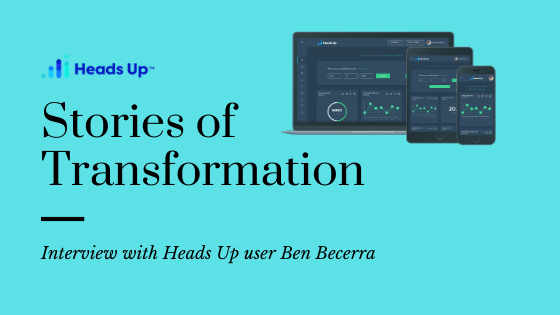 We love hearing about empowered Heads Up customers who are transforming their health. It brings us great joy because, after all, when all is said and done, health is the best wealth. 
When Benjamin "Ben" Becerra, a commercial truck driver and dad — aka Keto Trucker Ben — went in for his physical at the Department of Transportation, his doctor declared him "morbidly obese" based on his weight and BMI. Instead of letting that discourage him, Ben used that as motivation to research viable diets that would fit his mostly sedentary lifestyle driving an 18-wheeler. 
Within 17 months, Ben transformed his body and health using lifestyle modifications (keto/fasting/exercise), keeping it up by tracking his health data with Heads Up and Keto-Mojo. He began posting onto Instagram his new keto life on the road, revealing gains over time. He's proof that mindset and keto tracking is key to optimizing your health. It doesn't matter if you're a commercial truck driver with a sedentary job possessing only one skillet and one small refrigerator. Ben is proving, to himself and everyone else, that when it comes to transforming his health, he's unstoppable!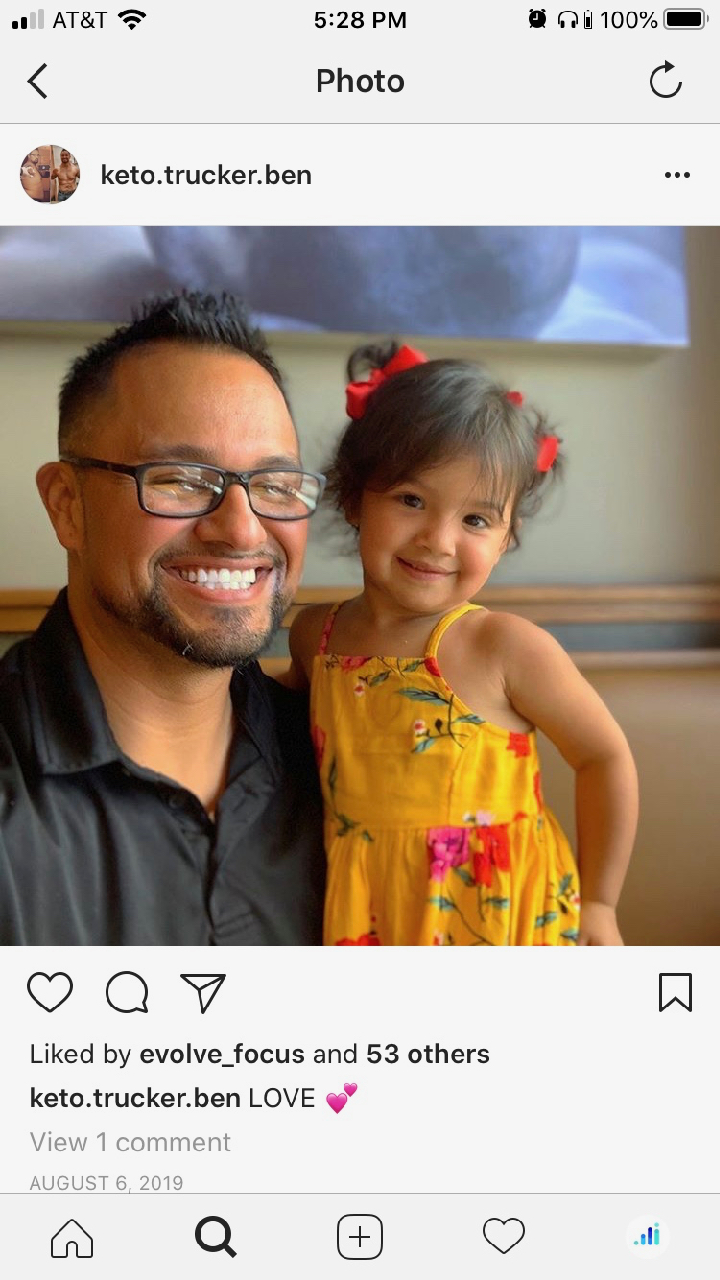 Extending Healthspan with a Healthy Keto Lifestyle
In October 2018, Ben Becerra jumped into the keto lifestyle and hasn't looked back. Beginning at 262 lbs and a BMI of 38.4, now at age 38, Ben has dropped his weight to 212 lbs and lowered his BMI to 30.4 This young dad isn't letting being on the road for work stop him from eating healthy, exercising or fasting, determined more than ever to be a healthy model to his 28 month old daughter, to extend his healthspan to see her grow up.
"I use Heads Up as my go-to app for all the information I collect from my Keto-mojo meter. I'm a data person so I enjoy monitoring my data to make the best choices and stay motivated."
How Ben Becerra Uses Heads Up for Tracking Keto 
Ben Becerra checks his fasting glucose and ketones using Keto-Mojo, his ketone meter and glucometer, then syncs that info directly to the Heads Up dashboard (see below for mobile app) where he can see his numbers displayed, GKI (glucose to ketones index) automatically calculated, and other desired health data (ex. weight, BMI). He also uses Heads Up's built-in fasting timer to start or stop his fasts. This is a great way to get a feel of how lifestyle choices such as what you eat and drink (and when you don't) impacts your metabolic health. 
Using the mobile app with Keto-Mojo, Ben can customize his personal dashboard to track the metrics that he cares about to achieve his health goals. (Active on Instagram, you can follow Ben at @keto.trucker.ben and keep inspired by how he stays keto on the road!)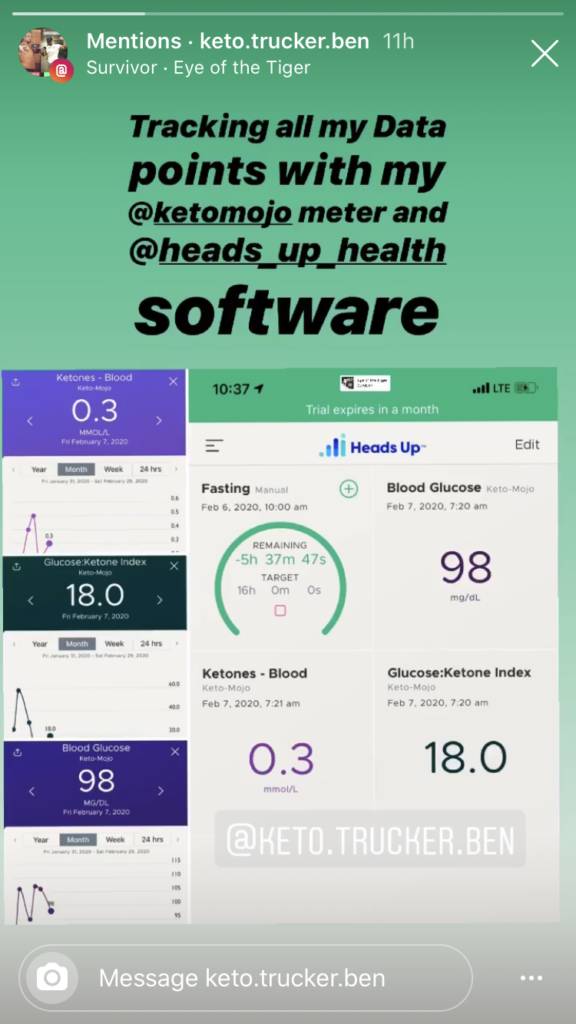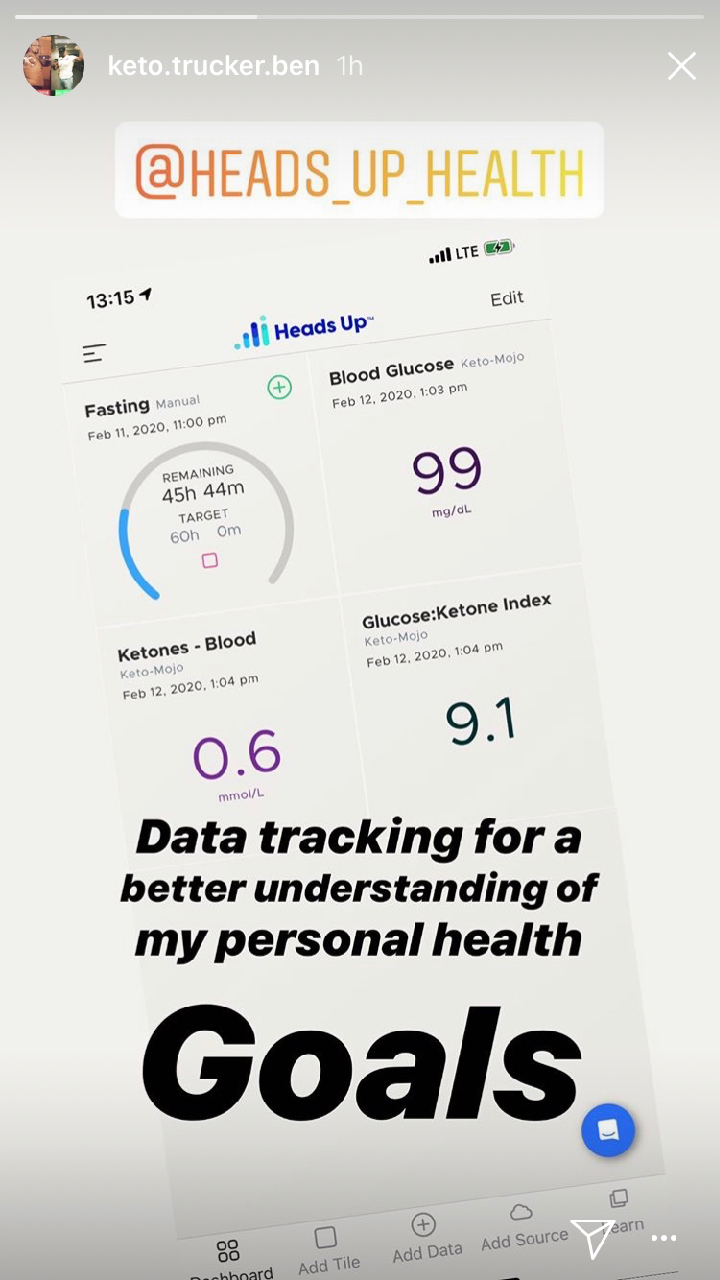 To get even more power out of Heads Up, Ben can use our Analyzer feature on the web app to graph and correlate up to SIX health metrics. As a self-described "data person," Ben, who is now in the midst of a 30-day Carnivore Keto Cut Challenge with the always inspiring Danny Vega, can then monitor how this new lifestyle mod is impacting other health markers, such as fasting glucose and weight. Or even how this new diet may be affecting inflammation markers such as CRP, since it's easy to correlate with medical records to spot trends over time.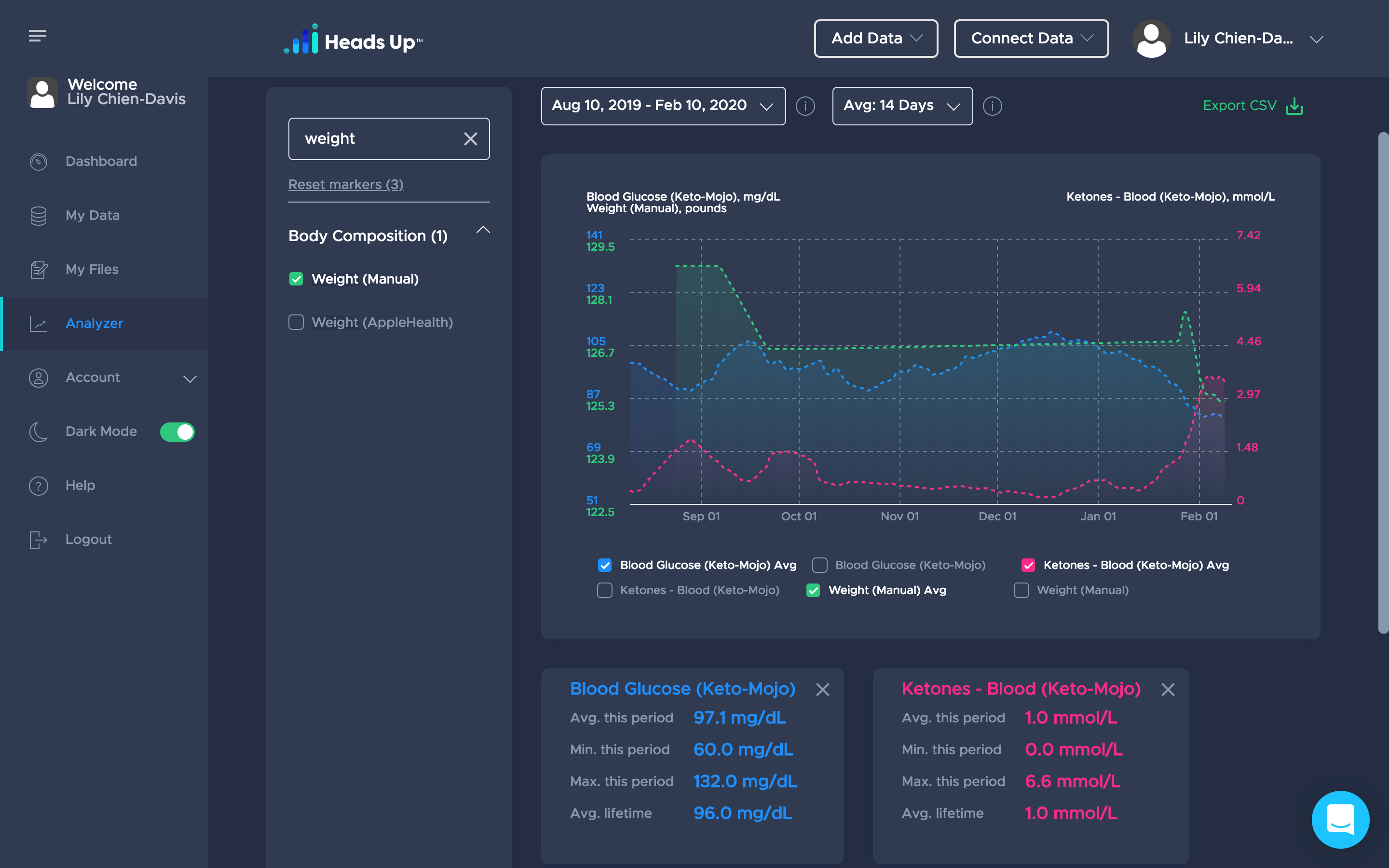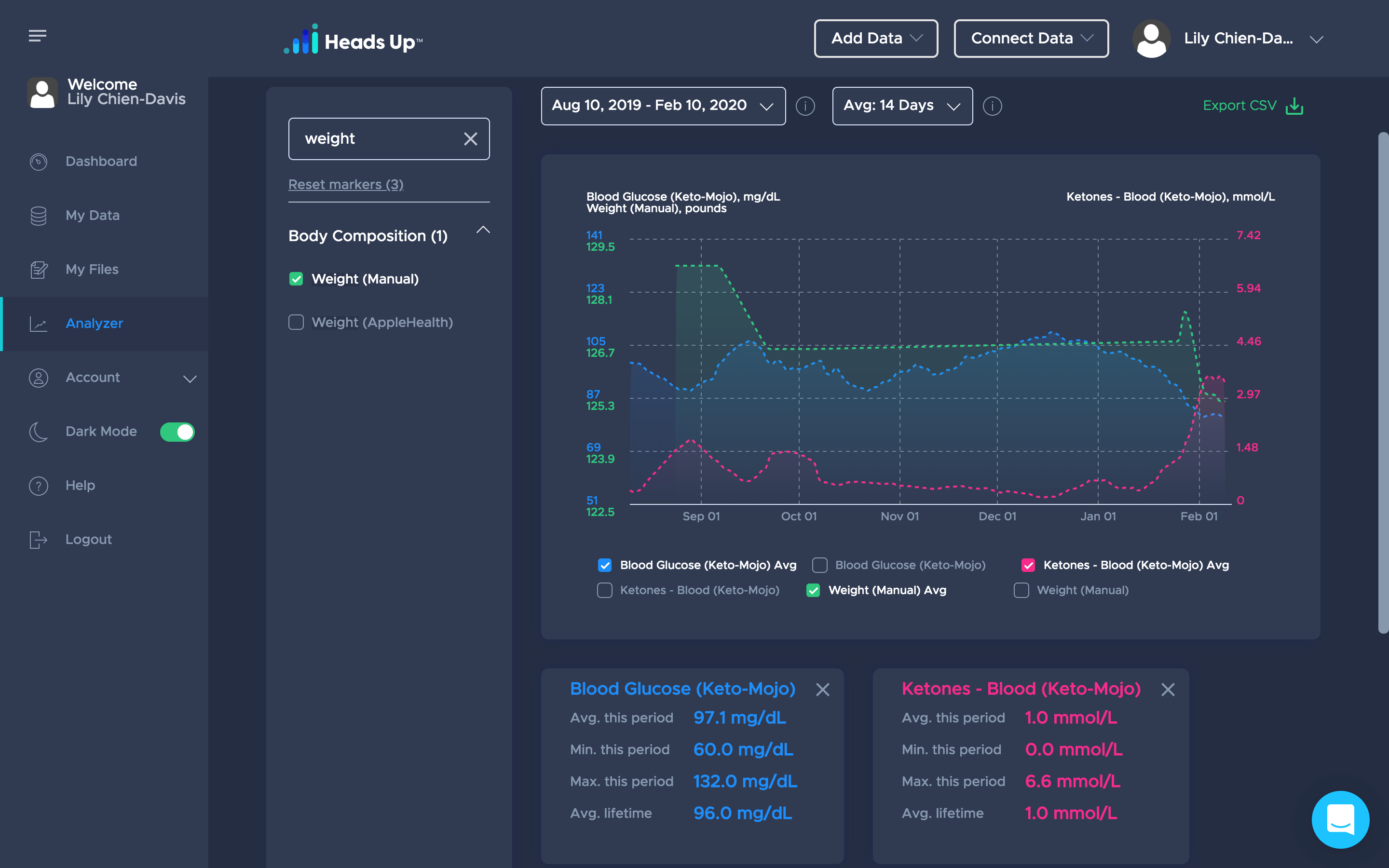 Note: The graph above is an example of our Analyzer in action when one of our team members stacked 30-days of a nose-to-tail carnivore diet with a prolonged fast near the end of January. She wanted to see how these two health self-experiments impacted her fasting glucose, ketones, and weight, her last six months captured in this graph. It's interesting to see how glucose takes a nose dive and ketones rocket upwards, while weight begins to drop after sandwiching a week-long fast between carnivore-eating.
It's hard not to be inspired by Ben's BEFORE and AFTER photos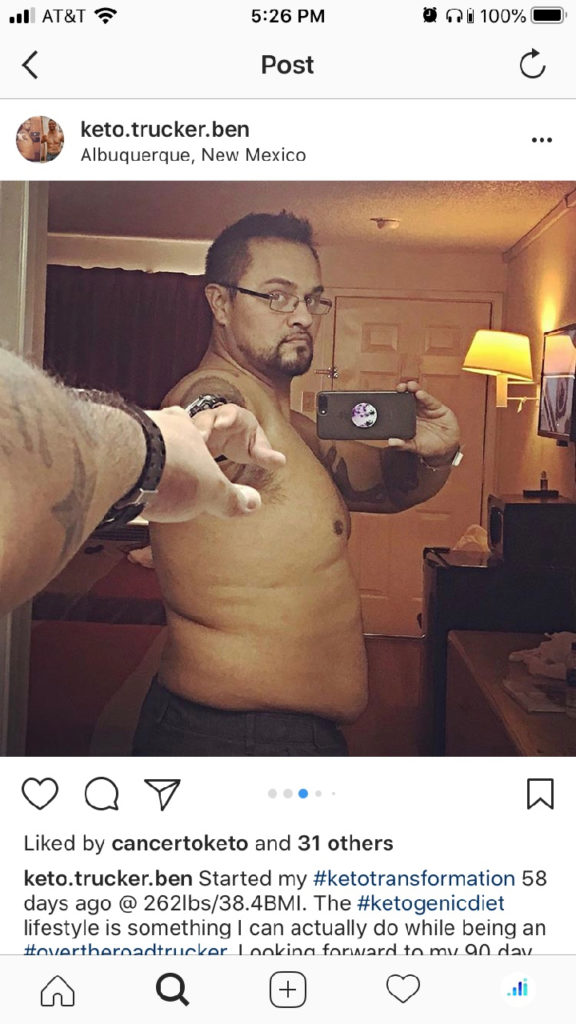 Interview with Ben Becerra on Transforming His Health
We had a chance to chat with Ben about what he's been doing to transform his health. Enjoy the interview below! And don't forget to head on over to his Instagram feed to get inspired in real-time what he's doing to stay in the game for the long haul.
In your own words, how would you describe your health transformation? What were you facing that led you to take control of your health?
What led me to making my transformation was when I went to get my D.O.T. [Department of Transportation] physical exam and the doctor told me that I was "morbidly obese." At that point, I realized I had let myself go and decided to do some research on what types of "diets" I could use while being sedentary for a majority of the day driving a commercial vehicle. I came across the ketogenic lifestyle, first hearing about it through my uncle, then from the incredibly inspiring keto community on Instagram, and began to tailor the diet to my new career.
Once I realized that I could maintain this lifestyle while trucking I went in full steam. Now I am at a level of learning to use data points that I gather to manipulate my dietary needs to take me into the best shape of my life. Having the ability to track so I can tailor my journey and intake of nutrition to fit into my trucker lifestyle (e.g., learning how the effects of food and drink, such as a Red Bull, affects my blood sugar). It's been almost 17 mos since I started my Keto Journey.
My goal is to ultimately be my best both mentally and physically for the remainder of this life I have to share with my daughter. 
How are you using Heads Up? 
I use Heads Up as my go-to app for all the information I collect from my Keto-mojo meter and fasting tracker. I'm a data person so I enjoy monitoring my data to make the best choices and stay motivated. 
What health metrics do you monitor for keto tracking? 
Fasting glucose, ketones, GKI, weight, BMI and fasts
Have you connected Heads Up to any devices, apps, wearables, and/or medical records/blood tests?
So far, just with the Keto-Mojo meter. It's great that it can integrate with so many devices out there allowing me to get healthier on my own. So far, I've gotten healthier, it's hard to believe that all this has been through eating real food. 
Advice for others about taking control of your health?
Set a goal and work towards it daily. The 18 months of weight loss was not an overnight success.
But I believe in having "a patience mindset:" #smallgoalsdaily. Also I've learned that intermittent fasting is a natural friendship with keto with lots of science and data to back it up.
Your go-to meal to maintain your keto lifestyle?
Bone-in ribeye steak and brussels sprouts (made in my trailer while on the road).
Inside my Trucker Trailer, I eat, cook, and maintain a keto lifestyle using only:
1 skillet
1 coffee maker
1 4×4 cubic refrigerator
Any favorite ___ (ex. podcasts, books, recipes, other) you want to share?
Fasting Mother Nature's Game Changer, a book by Scott Murray (AKA @TheGoodLifeTheory on Instagram). Via the incredibly supportive and enormous keto community on Instagram, Ben met Scott who inspired and supported Ben's keto journey. Ben highly recommends Scott's book!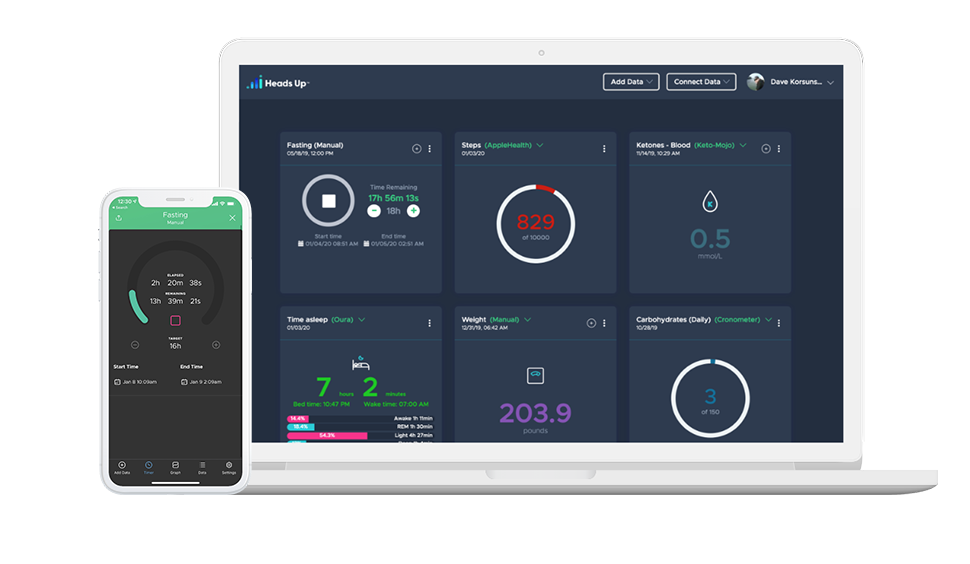 Take Control of Your Health
With Heads Up, you can track as little or as much as you want. Did you know you can also import your blood tests to correlate how a particular diet or prolonged fast is impacting your A1C or other markers, such as CRP and HDL? You can also keep track of other vital markers such as sleep data and HRV via wearables such as Oura or EliteHRV. You can even see how cryotherapy sessions are impacting your health! 
You can read more inspirational stories of transformation like Ben's, such as 60+ year old Ginny who reversed her prediabetes. A retired long haul driver herself, Ginny didn't let being on the road stop her from tracking keto and transforming her health.